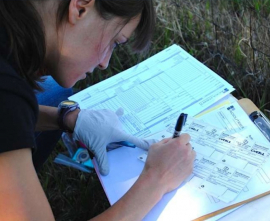 Resources on this website are designed to help water well owners in areas of oil and gas development establish a reliable baseline of their water quality and quantity.
Colorado is currently experiencing an upswing in oil and gas extraction activity, as are other states in the West and across the country. The production boom that has ensued is having two major effects on the ground: it is boosting the intensity of extraction in places where residents are already familiar with the oil and gas industry and it is also bringing drilling rigs to communities that have no experience (or sometimes no recent experience) with energy development.
As Colorado's oil and gas well count has risen, and as the industry has extended its geographic reach, public apprehension about the environmental impacts of oil and gas extraction has escalated as well. Much of this concern has been centered on aquifer protection, particularly in communities that depend heavily on groundwater. In Colorado, as elsewhere, some residents are alarmed about the possibility of groundwater contamination from an extraction technique called hydraulic fracturing. Coloradoans have also expressed worry about the possibility of surface spills of drilling waste and the potential for gas extraction-related groundwater pumping to reduce water levels in areas of coalbed methane development. This alarm has been exacerbated by a number of confounding factors, including a polarization of the public discussion of energy development and an absence of unbiased and intelligible information on these and other groundwater-related topics.
The Colorado Water and Energy Research Center (CWERC) aims to at least partially address that information deficit by providing guidance for water well owners who want to learn to about their groundwater resources and monitor them over time. CWERC seeks to provide helpful, independent, scientifically sound, and politically neutral information about energy and water resources in Colorado. This guide was developed after it became clear that Colorado water well users want to better understand their groundwater resources, and further, that they want help gauging if, and/or how, energy extraction might impact those groundwater resources.
Related Research