Monday, February 07, 2022, 12:00PM - 1:00PM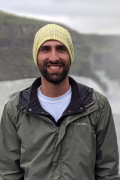 Speaker
Dr. Joseph Tamborski

Please join us Monday February 7th at 12:00 pm (Mountain time) for the INSTAAR Noon Seminar. We will get to hear from Dr. Joseph Tamborski, Assistant Professor at Old Dominion University, Norfolk, Virginia.
Groundwater and "blue carbon": What's the link?
Abstract: Coastal ecosystems including seagrass, mangroves and salt marshes are valued as important "blue carbon" sinks for their carbon sequestration capacity. These systems are the focus of coastal conservation efforts and are being included in programs and policies for climate mitigation strategies. While these systems can bury significant carbon, they may also laterally export dissolved organic and inorganic carbon to the coastal ocean ("outwelling"); however, this "invisible" dissolved pathway has been largely ignored to date. Tidal pumping acts as the primary mechanism responsible for this outwelling, driving groundwater flow through the permeable sediments of these blue carbon habitats. In this talk I will focus on recent work from a micro-tidal salt marsh where we investigated spatial and temporal variability in subsurface flow paths, and of lateral dissolved carbon exports.
Dr. Tamborski's seminar will be held Remotely. He will be available after the seminar for continued discussion and questions. He can also be contacted at jtambors@odu.edu.
Zoom link: https://cuboulder.zoom.us/s/94699942840
Password: noon2021