Monday, February 14, 2022, 12:00PM - 1:00PM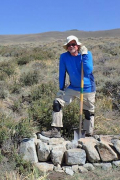 Speaker
Dr. Tim Seastedt
Location:
Sievers Conference Room SEEC S228
4001 Discovery Drive, Boulder, CO, 80031
Please join us Monday February 14 at 12:15 pm (Mountain time) for the INSTAAR Noon Seminar. We will get to hear from INSTAAR's own Dr. Tim Seastedt (Professor emeritus).
The title of his talk is:
Soil Carbon Sequestration: Is carbon drawdown a realistic activity for the Colorado Front Range?
The resolution of the climate crisis requires immediate actions that can stabilize and begin the drawdown of atmospheric greenhouse gases. Application of 'Nature-Based-Solutions' to this effort have been both advocated and challenged. While nature-based solutions cannot be considered a substitute for carbon emission reduction, advocates state that this process can contribute substantially to carbon drawdown over the next few decades. Cynics include those that see these efforts as 'greenwashing' and inappropriate in fire-prone areas such as ours. Rather than focus on converting carbon dioxide to green biomass, efforts should focus on management actions that can sequester carbon into the soil using natural processes. The potential is large for this activity in the Colorado Front Range and Great Plains region. The under-appreciated roles of soils and communities in semi-arid landscapes in this process are identified, and existing studies show an array of low-cost or no-cost management actions that sequester carbon. Proactive restoration activities that can maintain and enhance soil carbon storage in an increasingly arid landscape are presented.
Dr. Seastedt's seminar will be held In Person in the Sievers Conference Room (SEEC S228). We will also have coffee available at the seminar and invite anyone who is interested to stay after for coffee & discussion.
For those who are unable to attend in person, the talk will be also be available via zoom.
Zoom link: https://cuboulder.zoom.us/s/94699942840
Password: noon2021