Monday, February 21, 2022, 12:00PM - 1:00PM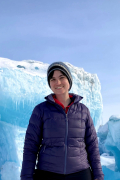 Speaker
Dr. Laura Whitmore
University of Alaska Fairbanks
Please join us Monday February 21 at 12:00 pm for the INSTAAR Noon Seminar. We will get to hear from Dr. Laura Whitmore (University of Alaska Fairbanks).

Using multiple geochemical tracers to investigate Arctic Ocean water masses and biogeochemical processes

Abstract: The Arctic Ocean is changing rapidly as a result of global climate change at rates disproportionate to other ocean basins. Changes in stratification, circulation, and sea ice cover are giving way to a cascade of biogeochemical and ecological changes that are altering the character of the Arctic Ocean. These changes influence the global ocean by modulating freshwater export from the Arctic Ocean to the North Atlantic Ocean, the transfer of chemical constituents, and the connectivity of organismal populations. In the Arctic Ocean basins, substantial river runoff and a relatively fresh Pacific inflow through the Bering Strait result in a strong halocline from the surface to mid depth, separating the cold and relatively fresh Pacific Ocean-derived surface layer from warmer and saline Atlantic Ocean-derived water below. This prominent halocline stands out as a defining feature of the Western Arctic Ocean, impeding the delivery of heat from underlying Atlantic waters to the sea surface. In this talk, we'll investigate the origin of geochemical signatures in the halocline and I will introduce new data that will allow us to consider sea ice biogeochemistry and the connectivity between the marine system and the cryosphere.
Dr. Whitmore will be available to meet on Monday, Feb. 21 before or after the talk til 3PM MST. Please email Shaily (shaily.rahman@colorado.edu) or Dr. Whitmore directly to set up a meeting time (lmwhitmore@alaska.edu). The seminar will be held remotely only, via Zoom:
Zoom link: https://cuboulder.zoom.us/s/94699942840
Password: noon2021