195 eighth graders toured labs, ran science experiments, and played science games on Friday, April 8th during an Open House hosted by the Institute of Arctic and Alpine Research (INSTAAR) and the National Snow and Ice Data Center (NSIDC). The students, from Boulder's Southern Hills Middle School, divided into small groups for a morning of fast-paced activities.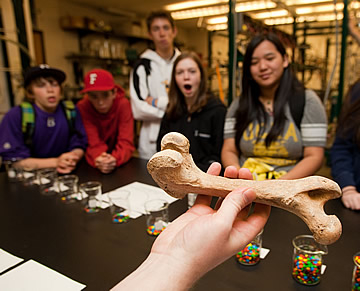 The Open House was designed to expose students to many of the research areas and methods pursued at INSTAAR and the NSIDC. Students learned how scientists can estimate the age of an object by measuring the relative amounts of different isotopes of carbon present in organic material, such as bone, charcoal, shells, or wood. They watched a demonstration of equipment used to measure trace amounts of gases and improve environmental models, and found out how sediment cores are analyzed to give information about past climates.
In the Supercomputer Lab, students played a science game that pitted different computing methods—parallel processors vs. single processors—against each other, using Duplo blocks to perform tasks. Scott Peckham, the chief software architect at the Community Surface Dynamics Modeling System (CSDMS), conducted the games. "It was interesting—right away the students came up with refinements that mirror stuff we do in programming," Peckham said.
"It was interesting—right away the students came up with refinements that mirror stuff we do in programming." - Scott Peckham
Filmmaker Ryan Vachon presented Core Catchers, a video showing scientists studying past climate climbing to a glacier in the Andes to drill an ice core. John Hoffecker gave a dynamic presentation on the People and Climate of Alaska's Cape Espenberg 1000 Years Ago, and Craig Lee provided an overview of the archeological and paleobiological materials recovered from melting snow and glaciers around the world.
Boulder Creek was the site of a number of hands-on experiments that had students scouring underneath rocks in the stream for invertebrates; sampling water quality and pH; and measuring flow with a flow meter, tennis balls, and oranges.
The Open House and collaboration with Southern Hills Middle School is an INSTAAR tradition entering its third decade. Many people at INSTAAR and NSIDC helped organize and run the Open House. Organizers included Craig Lee, Bruce Vaughn, Ryan Vachon, Ursula Quillmann, and Susan Ponsor. Many graduate students and research assistants acted as tour guides, shuttling groups between labs, presentations, and the creek. Scientists and grad students gave tours, conducted demonstrations and hands-on activities, and made presentations.
"The opportunity of see science in action demystifies it," said Open House co-organizer Craig Lee. "We hope that these small group interactions, where you participate in forming a question, collecting data, and coming to conclusions, plants a seed about how science works." He adds, "Also, no one is wearing lab coats. Maybe we'll show that scientists are just normal people doing interesting things."