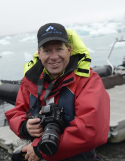 On a rare clear day in Denali National Park a few miles southwest of the namesake mountain, photographer Kerry Koepping is taking pictures of the ground. His back is toward North America's tallest mountain.
In front of him, the land ripples in a tidy pattern.
Instead of the iconic mountain, the subjects of his images are tufted piles of earth known as polygon hummocks.
"Polygon hummocks are mounds of beauty that are really visualizing something catastrophic," says Koepping, an INSTAAR affiliate and project director of the Arctic Arts Project, an initiative to document environmental and cultural change in the periarctic region over three years.
Generated by repeated cycles of freezing and thawing of the ground, polygon hummocks were unheard of in this region. Their presence signifies extreme environmental change in the area. Koepping's captivation with these neatly patterned formations drove him to learn what he'd been taking pictures of. Upon seeing the images, scientists at INSTAAR were as intrigued as he. They hadn't ever seen these formations in this area, nor did they ever expect to have someone put a visual component to their science.
Koepping initiated the Arctic Arts Project soon afterward. The project documents changes occuring in the arctic, but perhaps more importantly, is also a conduit for bringing science to the public.
"Right now, the biggest gap for the public, I'd say, is real information that is in terms that they can understand. And, to me that's where visual literacy comes in," says Koepping. "It's really easy to understand [when] you see a giant melting ice block and then refer back to Greenland's daily melt. All of a sudden it becomes real."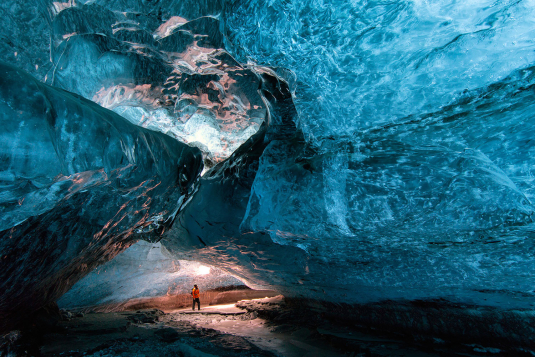 The power to communicate science to the public through visual communication rather than data is evident. The Arctic Arts project hopes to reach 30 million people before its completion and has garnered more than 12,000 followers on Facebook and over 2,000 views of video and imagery on social media channels so far.
Koepping sees how compelling visual evidence draws people into the science.
"People are thinking, 'Oh, that's not necessarily a pretty picture. There's more to it.' The intrigue comes in the art, to get people to look at it and question it," he says. "After all, that's really what began the Artic Arts Project. The questions of 'what is this patterning in the ground and why is it here?'"
But he also emphasizes that the project is visual communication of science and bears a certain responsibility and integrity for the photographers and cinematographers capturing this evidence.
"We really take on a journalistic perspective of accuracy with what we're presenting. This is what the arctic is. It's not made up," says Koepping.
Visual communication of science is empowering to the public. It takes different components of research and provides broader perspective of what's out there. What's more, this kind of visual communication is also expanding scientists' perspective in a way that's empowering to them and their research.
Given this empowerment, Koepping poses a challenge to scientists to re-evaluate their communications outreach, to ask how their projects are communicated and reaching out to the world at large.
"I think it gives a sense of vision to each science team that says my responsibility goes well beyond what I'm doing beyond the data," he says. "It carries a global responsibility to make sure we're pooling all of this information."
Scientists don't have to do it alone. That's what Koepping and projects like the Arctic Arts initiative are for. He respects scientists' brilliance and wants to show that to the world.
A driving impetus for Koepping is the question of how to take the brilliance that's in the world and truly put it out there for everyone.
His answer?
"By changing the way we look at things."