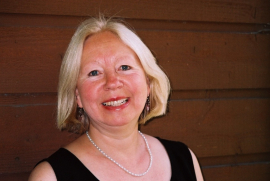 Astrid Ogilvie arrived in Iceland today as the new visiting Nansen Professor in Arctic Studies at the University of Akureyri. Ogilvie was awarded the twelve-month appointment by an international selection committee convened by the University of Akureyri and the Icelandic and Norwegian ministries of foreign affairs.
Ogilvie's research in Arctic studies reaches across disciplines to investigate complex human-environmental-social issues centering around climate and the environment. Her career has focused on building bridges between the humanities and the natural sciences to further understanding of long-term human ecodynamics and climate change. As the Nansen Professor, she is tasked with stimulating academic cooperation and exchange of ideas between the Icelandic and Norwegian academic milieus in the field of Arctic studies, and with contributing to the development of the University of the Arctic.
The Nansen Professorship is named for leading Norwegian explorer, humanist, and diplomat Fridtjof Nansen (1861-1930). It is awarded to a leading scientist working with issues that bear on legal, economic, social and natural circumstances in the Arctic.
This is only the second time the Professorship has been awarded. A Memorandum of Understanding between Iceland and Norway was signed in Akureyri in September, 2011, to strengthen cooperation between Iceland and Norway in the field of Arctic scientific research, including the establishment of the Nansen Professorship. Ogilvie was present at that signing, reflecting her long-standing interest in climate and society in both Iceland and Norway. Also in this regard, in 2010 she was awarded a Fulbright Scholarship to Iceland.
Astrid Ogilvie will be based at the University of Akureyri in northern Iceland, with its research foci on biotechnical, marine, and social sciences and a strong presence in research and education in the Arctic. Akureyri is also home to the Stefansson Arctic Institute, Polar Law Institute, Secretariats of two Arctic Council Working Groups, Arctic Portal, and other Arctic institutions and initiatives. Ogilvie will work with colleagues and initiatives in Akureyri and throughout northern regions on Arctic studies. Part of her mandate is to give public lectures on Arctic issues and to participate in the contemporary debate on changes in the Arctic.
As well as being an INSTAAR Fellow, Ogilvie is Associated Faculty in the Environmental Studies Program at the University of Colorado, a Senior Affiliate Scientist at the Stefansson Arctic Institute in Akureyri, and a Professor Adjunct at Hunter College at the City University of New York. During 2011-2013 she was based in Tromsø, Norway as a Senior Research Fellow with the Center for International Climate and Environmental Research (CICERO).
See more about Ogilvie's interdisciplinary research in a PDF of a presentation on an NSF-funded project she led, "NORSAGA: Northern Narratives: Social and Geographical. Accounts from Norway, Iceland and Canada." You can also see her talk, "A Brief History of Climate in Iceland" at the 2012 Nansen conference "In Northern Mists: Understanding the Past, Predicting the Future—Icelandic and Norwegian Contributions to Arctic Research," which she helped organize together with her colleague Níels Einarsson. In February 2013 she gave a TV interview on her life journey and research interests on The Bat of Minerva, Institute for Advanced Study, University of Minnesota.