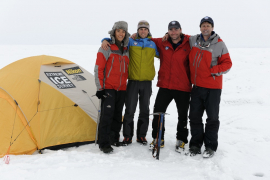 Chasing Ice, a documentary by director Jeff Orlowski that has won awards at film festivals around the world, is being released nationally in U.S. theaters starting in mid-November. The film follows photographer and INSTAAR affiliate James Balog as he and his team in the Extreme Ice Survey capture stunning time-lapse footage of melting glaciers, despite balky equipment, sideways terrain, terrible weather, and personal injury.
The film has won awards at at film festivals around the world, including Sundance, South by Southwest, and Boulder Film Festival.
Premiering in New York on November 9, Chasing Ice will appear in theaters across the United States and Canada through November, including Washington, D. C., Chicago, Seattle, Portland, San Francisco, Los Angeles, Minneapolis, Philadelphia, Calgary, and Denver.
The time-lapse footage caught by the Extreme Ice Survey team preserves a visual legacy and unique baseline, showing how climate change and other human activity impacts the planet. In its turn, Chasing Ice takes its viewers along for the difficult and beautiful ride.