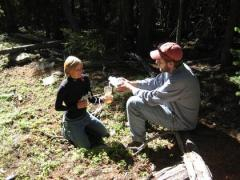 Caitlin Crouch and Diane McKnight found that rising concentrations of zinc in the Snake River watershed on Colorado's Western Slope may be the result of earlier spring snowmelt. They observed a four-fold increase in dissolved zinc over the last 30 years during September and October, the lowest water flow months. They also noticed that the low flows have become lower - and probably the soil along the stream drier - as air temperatures have risen and snowmelt has begun two to three weeks earlier. The changing stream conditions appear to have accelerated the process of acid rock drainage, in which weathering of the mineral pyrite forms sulfuric acid that dissolves metals like zinc and carries them into the groundwater. Acid rock drainage in the Snake River watershed comes from abandoned mine sites as well as through natural weathering of local rock.
Crouch and Mcknight's study of a western waterway is one of the first to discuss potential climate influences on water quality, rather than simply on water quantity. The levels of zinc in the Snake River watershed affect stream ecology, including deleterious effects on microbes, algae, invertebrates and fish. For example, rainbow trout populations in much of the river are not self-sustaining because of ecologically harsh stream conditions, and the waterway requires stocking several times a year.
Seven CU-Boulder graduate students have produced master's and doctoral theses under McKnight on environmental issues related to the Snake River watershed. Copies of the studies have been provided to the Snake River Task Force to help assess the current and future stream chemistry and biology in the area.