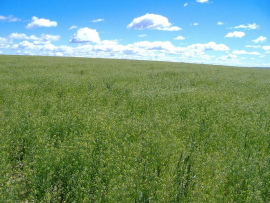 Resource economist Catherine Keske is prospecting for gold in fields of statistics.
Using computer models, Keske and her colleagues are looking at a new crop that might help farmers in Colorado, Montana, and other high and dry regions earn extra income and achieve energy independence. Their new study asks if, and when, it would be profitable for farmers to grow Camelina sativa (camelina) to process and use themselves as a biofuel.
Camelina can be processed into a biofuel and into a high-protein meal for livestock feed. The new study evaluated costs, risks, and crop rotation to see if raising camelina can be profitable for farmers, using results from field trials at Colorado farms and agricultural experiment stations.
Camelina is a flowering plant in the mustard (Brassicaceae) family, often called by the common names gold-of-pleasure or false flax. It has been cultivated as an oilseed crop since ancient times in Europe but has only recently been grown commercially in the United States. Camelina has a short growing season, fitting into normal crop rotation when land would otherwise remain fallow, and requires little water or fertilizer. It works in colder weather as well, making it a good candidate for high country farms. "It's well suited to higher elevations and drier areas," says Keske.
The study summarizes the conditions by which farms can successful achieve energy independence without camelina competing with other crops in rotation. The researchers found that a farmer raising camelina as a biofuel for on-farm use, given first-year costs, risks from drought, and so on, will probably break even when diesel costs $1.15 per liter. The sale of camelina meal, a co-product of the biofuel that is equivalent to soybean meal, has the greatest impact on profitability. When diesel costs more than 90 cents per liter, however, the farmer generates more revenue from the ability to offset diesel fuel costs than from the sale of camelina meal.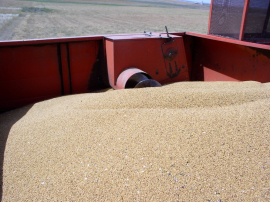 The research shows that camelina has the potential to be both a sustainable energy solution and agricultural crop at high elevations. Farmers can grow the crop on-farm and process it into straight vegetable oil (SVO) to power a diesel engine, providing a measure of energy independence and shielding them from disruptions in fuel supply or sharp price increases in diesel fuel.
Keske thinks that this energy independence is important even as new natural gas exploration expands in high country ranching and farming areas. "Diversifying your energy sources is always important, even with a natural gas boom," she says. "[Natural gas] conversion kits for farm equipment will be expensive, and will be less of a priority to develop than those for home heating and export. If there's a fuel disruption to the farmer, the crops can't be produced. Camelina provides an opportunity for the farmer to fill the fuel tank and get crops in."
The study found that SVO generated from camelina has several characteristics that may provide opportunities in western regions, which have until now lacked a comparative advantage in biofuel production. Camelina's low inputs reduce the opportunity costs of growing it compared to other oilseed crops. It has a long shelf-life compared to other oils high in omega-3 fatty acids, and its chemical composition makes its burning efficiency in engines similar to petroleum-based diesel fuel. Compared to diesel, however, SVO derived from camelina produces only one third of greenhouse gases when burned.
"What I love about this study is that it's solving a problem for the farmer and helping meet society's goals—we need food, we need energy," says Keske. "I think that this is where resource economic research can help promote green economic development—research economists can narrow down and calculate the risks, and communicate these risks to the producers." She adds, "I hope this study is a first step to encourage farmers to look at putting camelina in their crop rotations."
The study, "Is it economically feasible for farmers to grow their own fuel? A study of Camelina sativa produced in the western United States as an on-farm biofuel," is published in the July issue of Biomass & Bioenergy. Keske's coauthors are Dana L. Hoag, Andrew Brandess, and Jerry J. Johnson, all from Colorado State University's College of Agricultural Sciences.