INSTAAR biology labs are using less energy and water and recycling more than they used to, thanks to graduate student Samantha Weintraub and a new CU program.
"I thought, that's how I want to make my mark." - Samantha Weintraub
Weintraub is leading small changes in laboratories that add up to significant changes in sustainability through the CU Green Labs program. Begun in 2009, Green Labs is a collaborative effort to promote the efficient use of energy, water, and materials in CU laboratories without compromising safety or scientific integrity. Weintraub and fellow student Liesl Erb are the lab liasions for the Ecology and Evolutionary Biology (EBIO) department, which gives them the job of advocating for changes within their department and INSTAAR and recruiting "ecoleaders" to become point persons in as many labs as possible.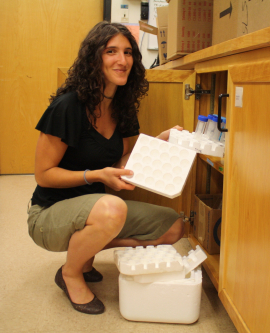 The voluntary Green Labs program relies on convincing people to think about and change their habits. "Sometimes it's challenging," Weintraub comments. "People have worked out ways of doing things, and…they're afraid of the effect of changes on their samples—they worry about the integrity of their science." But Weintraub feels that INSTAAR scientists are receptive to greening their labs as long as changes do not impact the quality of their science or come with high associated costs.
The students have convinced several biology labs to make concrete changes. For example, in April the students received authorization to put low-flow aerators in lab sinks, which will save hundreds of gallons of water during the endless dishwashing that accompanies lab operations. Several labs now collect Styrofoam, a common packing material, for recycling. Weintraub drops off Styrofoam from the three INSTAAR biology labs to add to the campus pickup. The labs pay a small fee to Eco-Cycle to pick up and process it.
The Green Labs program just held a national "Freezermania" contest, with a goal of reducing the energy used by Ultra Low Temperature (ULT) and other freezers here at the University of Colorado as well as UC Davis, Harvard, UPenn and others. Refrigerator is a huge energy use for labs, and "cooling from -70 to -80 degrees C takes a lot more energy than it does from -40 to -30," explains Weintraub, "Raising the temperature on ULT freezers to -70 degrees C can reduce electricity use by nearly 10%."
The Freezermania contest ran from May 2 through May 27. It used incentives, like gift certificates to local restaurants, to drive change. As well as energy savings through turning up freezer temperatures slightly, the contest encouraged labs to green their freezers through other measures.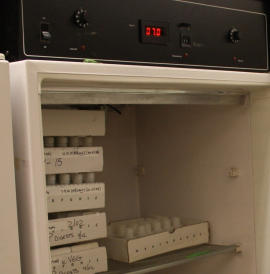 "Inventorying freezer units can make a huge difference," said Weintraub. Freezers can accumulate samples at a rapid clip. While some samples should be kept indefinitely for future work, others outlive their usefulness after a project is concluded. Implementing inventory systems in freezers, which ensures that a person's name is attached to each group of samples, keeps freezer contents under control. "You might not have to buy another fridge if you first make sure the contents of your old one are still useful," says Weintraub.
"A component of being an academic scientist is service: giving back to your department and community," says Weintraub. "I saw there was a departmental committee on energy efficiency in labs, and I thought, that's how I want to make my mark. I'm doing research because I care about the state of the planet's ecological systems, yet I produce waste and consume water in the process. I hope that by making improvements in our labs we can make environmental research more sustainable."