Bob Anderson, Irina Overeem and Cameron Wobus led a research team that won the 2009 partnering award from the National Oceanographic Partnership Program (NOPP). The team included members from INSTAAR, Stratus Consulting, US Geological Survey and the Naval Postgraduate School. The award is given to the top NOPP project exemplifying partnering across industry, academia and government.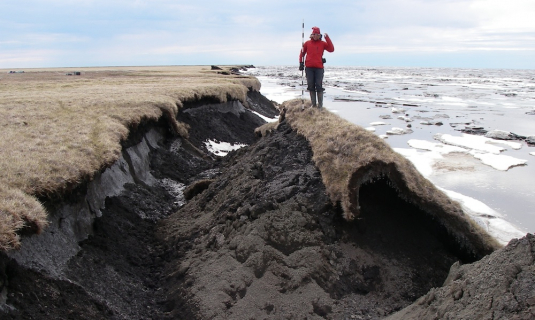 The team is studying how arctic coastlines are eroding due to a "triple whammy" of declining sea ice, warming seawater and increased wave activity. The multidisciplinary team includes experts in computer modeling, nearshore field measurents, and long-term observational data.
The National Oceanographic Partnership Program (NOPP) is a collaboration of federal agencies to provide leadership and coordination of national oceanographic research and education initiatives. Its goals include assuring national security, advancing economic development, protecting quality of life, and strengthening science education and communication through improved knowledge of the ocean.