The Alumni Association of CU Boulder has awarded INSTAAR director James White with the 2016 Robert L. Stearns Award. The honor recognizes faculty and staff members for extraordinary achievement or service in teaching, service to the University, work with students, research, and/or off-campus service.
The award description observes that White is a trailblazing research scientist who couples deep expertise with broad interests and distinguishes himself as an amiable colleague, first-rate administrator, generous mentor and gifted teacher—a serious man of science who leavens his lectures with humor, promotes discussion and listens as well as enlightens.
As director of INSTAAR and professor of geological sciences and environmental studies, Jim is a hugely prominent figure in the study of Earth and its environment. His scholarship has (for example) deepened our understanding of the global carbon cycle, reconstructed ancient environments and illuminated the degree to which plants can absorb atmospheric carbon dioxide.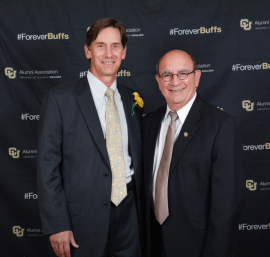 A solid citizen of CU Boulder, he launched the Environmental Studies Program, has guided faculty searches inside the sciences and out and earned a reputation for sound judgment and cool-headedness. He also led development of the campus' new Sustainability, Energy and Environment Complex.
"He is the faculty member we should all aspire to be," one colleague said.
Despite Jim's exalted stature among researchers, he routinely teaches undergraduate courses, including Introduction to Environmental Studies, and speaks at middle and high schools, public libraries and retirement homes.
"In the midst of the hard work and sobering science of climate change research," said a former student, "his positive attitude and easy laugh reminded me that it is also fun to be able to learn something new about the natural world."
Jim believes some questions may lie beyond the grasp of science. He's active in his church and in the Lutheran Campus Ministry—an "encouraging," "approachable" and "humane" person who happens to be "one of the brightest researchers around."