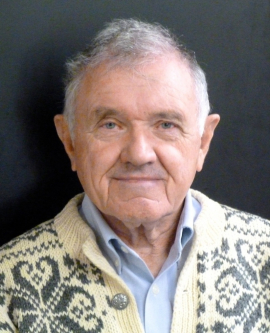 INSTAAR Senior Fellow and Geological Sciences Professor Emeritus John T. Andrews was named an Honorary Member by the Quaternary Research Association (QRA) at its recent meeting in London. Other recipients were Clive Auton (British Geological Survey), Andy Currant (Natural History Museum), and John Matthews (Swansea).
The QRA bestows Honorary Membership on individuals who have given distinguished and career-long service to Quaternary science and/or effective contributions to the activities and development of the QRA itself, and who are on the cusp of professional retirement or who have recently retired.
John Andrews has been a Quaternary scientist for more than 50 years. After an early career in Canada and a PhD from Nottingham University, he moved to CU-Boulder and INSTAAR in 1968. He became Professor Emeritus in 2003 but continues to actively participate in the life of the institute. Major research themes have included marine sediment archives, glacial history, and glacial isostatic rebound, especially on Baffin Island, Greenland, and in the waters between.
Andrews supervised 75 graduate students, including 35 PhD students, over the course of his career. Many of his students have also blazed trails in Quaternary science, including Giff Miller, Art Dyke, John England, Peter Clark, Anne Jennings, and Áslaug Geirsdóttir.
Andrews has been as an active member of the Editorial Board of the Journal of Quaternary Science since the inception of the journal. He has contributed a number of papers including two invited contributions on Heinrich events (1998) and the MIS3 and MIS2 history of the Iceland Ice Cap and the Greenland Ice Sheet (2008). His most recent contributions were published in 2012 and 2013. In sister organizations, John has served as Past President of the Quaternary and Geomorphology Division of the Geological Society of America (GSA) and Past President of the American Quaternary Association (AMQUA); both organizations have previously given Andrews Distinguished Career Awards.