Mark W. Williams has been elected a Fellow of the American Geophysical Union (AGU). Fellowship is conferred on less than 0.1% of the 60,000 AGU members from 148 countries in any given year and recognizes scientists who have attained acknowledged eminence in the Earth and space sciences. The primary criteria for evaluation are major breakthroughs or discoveries and paradigm shifts. Williams was elected "for outstanding research that has made fundamental advances in mountain hydrology and biogeochemistry."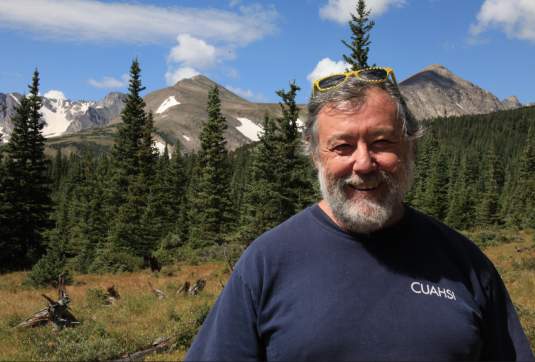 New Fellows are chosen by a Committee of Fellows. Williams will be honored at the AGU Fall meeting in San Francisco in December 2012.
Williams has made game-changing contributions to ecology and hydrology in mountain environments. His highly interdisciplinary research addresses biogeochemistry, hydrochemistry, life in extreme environments, terrestrial-aquatic linkages, surface-groundwater interactions, nutrient cycling, acid mine drainage, natural isotopes, physical-chemical interactions of the snowpack, snow hydrology, atmospheric deposition, remote sensing of glaciers, and avalanche dynamics. He has conducted extensive research in the Rocky Mountains, Sierra Nevada of California, Andes of South America, European Alps, Tien Shan of China, and the Himalayas.
Williams, a Professor of Geography and on the core faculty of Environmental Studies and Hydrology Certification Program, leads several high-profile research programs. He is the Principal Investigator (PI) of the Niwot Ridge Long-Term Ecological Research program and co-PI of the Boulder Creek Observatory. He also directs the new Colorado Water and Energy Research Center. With Richard Armstrong (CIRES & NSIDC), he leads a USAID-sponsored study to assess snow and glacier contributions to the High Asia hydrologic system that supplies water to a third of the world's population. He has conducted a number of EPA-funded projects to assess the hydrology of acid mine drainage from sites in the Rocky Mountains and divert polluted water from the water supply.
Williams joins Bob Anderson, John Andrews, Mark Meier, Gifford Miller, Diane McKnight, and James Syvitski as INSTAAR's AGU Fellows.