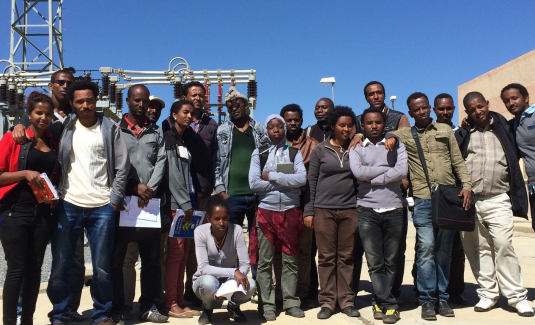 A unique partnership between Mekelle University, Ethiopia, and the Consortium for Capacity Building (CCB), CU-Boulder, is fostering climate leaders in Africa. Mekelle University's Institute for Climate and Society (ICS) opens multidisciplinary skills in climate change adaptation and resilience to graduate students from Ethiopia and elsewhere in the region.
In 2010, the CCB and Mekelle University worked together on a proposal to the Open Society Institute for strengthening the capacity of African universities in climate change adaptation. With seed money from the Open Society Foundations and funding from the Rockefeller Foundation to support collaboration with other universities in the region and for tuition support, a new program was begun. The ICS began operating at Mekelle University in 2012, with CCB Fellows Michael Glantz and Tsegay Wolde-Georgis as members of its advisory board.
The ICS focuses on climate adaptation and a range of climate-related issues that require skilled leadership to navigate. The objective of the program is to serve as a regional research and educational hub on climate change adaptation in Africa. Students learn climate science, law, policy, economics, ethics, and equity and the impact of these on society. Masters degrees are awarded in Climate Affairs and in Applied Climate Science, and graduate certificates are awarded to those who complete core courses in Climate Affairs. ICS Director Amanuel Abraha Zenebe says, "We are interested to continue the partnership with the University of Colorado to a higher level," perhaps including a joint master's program.
In June 2014, the first cohort of ICS graduates included 14 Ethiopian and two Ugandan students. Incoming students the same year include a student from Malawi and another from Uganda. Graduate students from Nigeria and South Africa are visiting the ICS while working on their dissertations.
The CCB has continued to participate actively in ICS. CCB researchers Gregory Pierce and Wolde-Georgis have taught courses in climate ethics and sustainability, respectively, at Mekelle University as visiting faculty. After returning from teaching at Mekelle in December, Wolde-Georgis says, "This is an important opportunity for the University of Colorado reach out to people in Africa by interacting with this university."
For more information about the program, please contact Tsegay Wolde-Georgis at tsegay@colorado.edu.