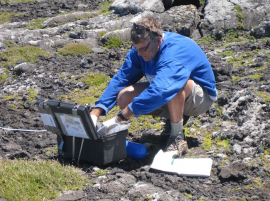 Increased capture of natural gas from oil fields may account for up to 70 percent of the dramatic leveling off seen in atmospheric methane at the end of the 20th century, according to new research on a related gas, ethane, by INSTAAR Fellow Detlev Helmig and colleagues. Their paper was published today in Nature.
Methane is the second-most important greenhouse gas, surpassed only by carbon dioxide. After decades of increases from industrial and agricultural activity, methane leveled off from the mid-1980s through 2005.
Ethane is the most abundant non-methane hydrocarbon in the remote atmosphere and is a precursor to tropospheric ozone. Because ethane's major emission sources are shared with methane, the long-term ethane record collected by the researchers can be used to investigate changes in global methane levels. The record showed that global emission rates for ethane decreased by 21% from 1984 to 2010.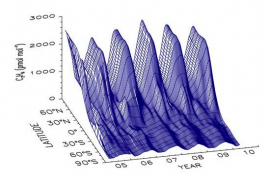 Two sustained records of atmospheric gases were compared to resolve the scientific mystery of the decrease in emission rates.
Researchers from the University of California, Irvine (UCI) have collected the world's longest continuous record of atmospheric ethane levels. For almost 30 years, successive generations of students and researchers took air samples four times a year from 10 sites in the Pacific.
Since 2004, the Atmospheric Research Laboratory at INSTAAR has operated the network for monitoring the global distribution of ethane and other non-methane hydrocarbons in the atmosphere. While the record is not as long, the sampling program covers locations around the world, and samples are collected every week—3000 samples per year.
"We overlapped the records and evaluated how representative their data record is for the global dynamical behavior of ethane," said Helmig. "The measure of agreement was strong enough to support the claim that the Pacific record was representative of global ethane, and therefore methane, levels."
Methane is the main ingredient in natural gas. The authors calculate that the trapping and sale of natural gas for use as a fuel source, which sharply reduced venting and flaring of natural gas as a waste product from oil fields, are responsible for 30% to 70% of methane's slowing atmospheric growth since the mid-1980s.
Since 2007, methane levels have started to climb again, adding urgency to the topic.
The authors of the study, titled "Long-term decline of global atmospheric ethane concentrations and implications for methane," are Isobel Simpson, Mads Sulbaek Andersen, Simone Meinardi, Nicola Blake, Donald Blake, and F. Sherwood Rowland (posthumous) of UCI; Lori Bruhwiler of NOAA; and Helmig.