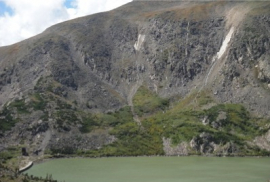 No news is good news up here on Niwot Ridge following what some local newspapers have been reporting as the "1000 year rain." Between Tuesday September 10th and Monday morning September 16th, Boulder received an historic 17.16 inches of precipitation. However rain amounts on Niwot, while well above normal, were not catastrophic and resulted in very little damage to roads, buildings or research sites. Totals on the ridge ranged from 4.83 inches of rain at our D1 site at 12,267 feet in elevation, 5.93 inches at the 11,500 foot Saddle station, and 7.48 inches of rain at our C1 site located at 9,914 feet in elevation.
The heavy rain has increased stream flows and soil moisture to levels similar to spring snowmelt conditions. Alpine streams that have been dry since mid-­July are flowing again. Mudslides can be seen in the City of Boulder Watershed. And Niwot looks like spring again, though with more autumnal colors and far less snow.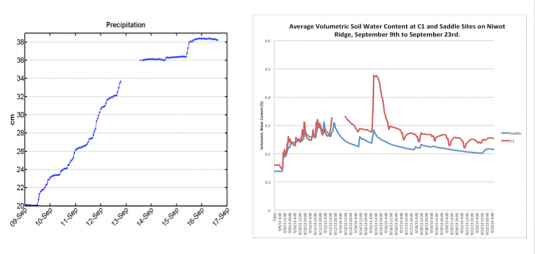 The road above the Mountain Research Station (MRS) to sites along Niwot Ridge is still completely drivable (though a little rough in sections). The largest obstacle to work on Niwot is damage to roads between the MRS and Boulder.
Almost all of the roads between the mountains and plains in the area are closed, or open to emergency and local traffic only. The flooding caused large debris flows to cover roads and undercut the highways through the mountain canyons. In some places bridges and roads were washed away completely, and the threat of new rock or mudslides on unstable canyon walls still remains. The Colorado Department of Transportation estimates that it will be at least a month before Boulder Canyon (the main thoroughfare between Boulder and the MRS) reopens. In the meantime, researchers at the MRS now have a two hour commute from Boulder, needing to drive about an hour south along the base of the foothills to where roads with mountain access remain open.*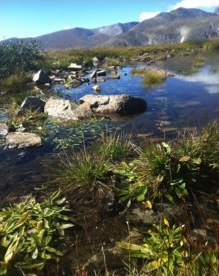 We feel very fortunate that (transportation issues notwithstanding) all is well at the MRS and we are comparatively unaffected by the damage from flooding in the Front Range. Our sympathies to those who have lost much more than a convenient commute.
Monday September 23rd began with some of the first new snow of the year up on the ridge, and winds were gusting above 70 miles per hour. Business as usual on Niwot.
* Those wishing to get to the MRS from Boulder for work will need to drive south to Golden and follow Clear Creek Canyon (highway 6) to Black Hawk and 119 to the MRS. Sunshine canyon is open to limited access by mountain residents, utilities and contractors with verifiable business to residential homes or businesses. You may need an official letter stating your work purpose to be let up Sunshine Canyon. There is absolutely no recreational traffic allowed. Boulder County Transportation is asking drivers to keep their speeds down and to be extremely courteous. For more information on road closures and openings check out www.bouldercountyflood.org.