James Syvitski has led an effort to install a new supercomputer at INSTAAR that will vastly extend the ability of scientists across the globe to model and predict many important aspects of Earth's surface processes, from glacial melting and flooding to coastal erosion and tropical ocean storms.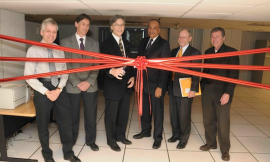 The new computer cluster is the heart of the National Science Foundation-funded Community Surface Dynamics Modeling System, or CSDMS, directed by Syvitski. CSDMS is a library of computational tools used by scientists worldwide to model and predict natural and human-influenced environmental events. It is one of three prongs of an NSF effort to model the Earth; the other two focus on Earth's atmosphere (NCAR, Boulder) and earthquakes, volcanoes and continental movement (CalTech, Pasdena).
An important mission of the CSDMS program is to involve academic and industry scientists across the globe, allowing them to contribute their own research and use existing models. Currently, CSDMS consists of a network of over 250 scientists from 22 countries. While the community is a virtual one, the CU-Boulder integration facility is the physical core responsible for the workings of the system. Researchers at the Boulder facility host about 15 meetings a year and have eight focused research groups. The groups meet once a year and include a carbonate working group, a hydrology working group and a coastal working group. The new computer will boost the capabilities of the science community. "We now will be able to run simulations that we never could run previously, at a time and space resolution that will make the environmental industry want to work with us," said Syvitski.