The evening of Friday, October 2, the sun rose over Boulder. In this case the sun was not our familiar star, but an actor in a spangled gold robe portraying Sol-Her, meeting her bratty but loveable little brother Energ-He for the first time.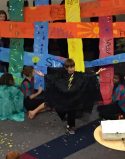 The original musical Sol-Her Energ-He was the centerpiece of the event Performance, Art and Music for a Resilient Boulder. Two hundred citizens, students, scientists, and faculty gathered to see creative works in which Boulder youth shared their visions for a resilient community.
Sol-Her Energ-He was written by Beth Osnes, CU Theatre and Dance and Inside the Greenhouse, and composed by Tom Wasinger, Grammy-winning producer and composer. K-12 student actors contributed to the second act, which takes the action from where we are now, when our use of fossil fuels has begun to change our climate, to a plan for a climate-wise and sustainable city.
Audience members took over as actors afterwards, as small groups were asked to share a 30-second skit about how their town could be more resilient.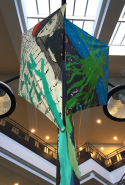 As well as the dynamic performances, attendees saw the art exhibit Young Women's Resilient Voices. Through kites, capes, and mixed media, girls in the community expressed what they need from their city for their own life goals and what they have to offer their city in reaching its goals for being resilient. The kites and capes of will be on display in SEEC through the end of the year.
ISET International brought interactive Contrasting Realities prayer wheels, ceramic vessels inscribed with alternative views of a changing world. Participants gently turned the wheels to contemplate the systems portrayed in the artwork, then wrote their own ideas about resilience as part of ISET's #ResilienceMeans campaign.
The evening closed with samba band Bateria Alegria raising the roof with drums and agogôs, sparking spontaneous dancing.
INSTAAR, and in particular the Albert A. Bartlett Center for Climate Communication, helped bring the performance to fruition. The evening was the first INSTAAR public event in the new SEEC facility, and the first official act of the new Albert A. Bartlett Center for Climate Communication. Other sponsors included CU programs Inside the Greenhouse, the Environmental Center, CIRES, Performers Without Borders, and School of the Environment and Sustainability, and Casey Middle School Muse Studio, the City of Boulder, BoCoStrong, C3 Boulder: Climate Culture Collaborative, NCAR, and the Rockefeller Foundation's 100 Resilient Cities Initiative.
Performance, Art and Music for a Resilient Boulder pulled together a community to contemplate where we are now, co-generate ways to make our communities more resilient, and celebrate our ability to mindfully shape our future.