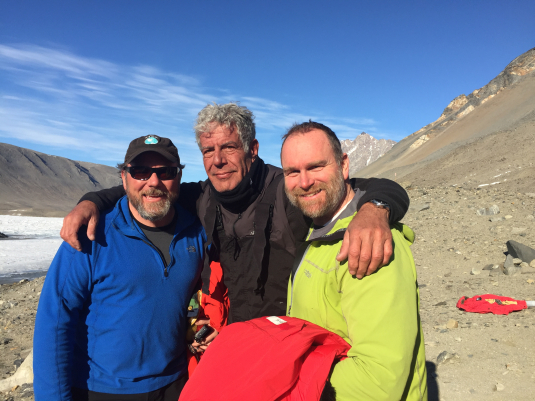 Howling winds, freezing cold temperatures and some of the lowest humidity on earth. Katabatic winds buffet the snowless, gravelly terrain that is home to the McMurdo Dry Valleys Long Term Ecological Research Station. Sounds like the ideal place for a dinner party, right?
Last Month, Michael Gooseff, Principal Investigator for the McMurdo Dry Valleys LTER and his team had the opportunity to host TV personality Anthony Bourdain of CNN's Parts Unknown. Boudain, most famous for his exotic culinary exploits, sat down with Gooseff and his team to share a pizza in one of the most remote places on earth—Antarctica.
"It's one of the few places on earth that closely mimics a Martian or other extraterrestrial landscape. He (Bourdain) and his crew were really impressed by the stark beauty of the landscape," said Gooseff, "That was a little surreal."
Bourdain and his crew brought a pizza from the research station galley for a lunch conversation at one of Gooseff's field sites to learn about his team's research in the McMurdo Dry Valleys, much of which focuses on the richness and diversity of life found at the bottom of the world. The McMurdo Dry Valleys LTER project has been ongoing for 24 years, making it important research for analyzing large-scale climatic shifts and changes.
Working for months at a time in the harsh climate found in Antarctica is not without challenges. Gooseff and his colleagues must sleep in tents, enduring constantly frigid temperatures, dry air and no running water. To Gooseff and his team, these are a small price to pay for the opportunity to do research in such a unique environment. Antarctica's otherworldly landscape offers rewards as well as challenges.
The Dry Valleys have many more stories and secrets to tell but we have to be there to hear them.
"It is exciting to work in such beautiful landscapes. Every direction has a terrific view, and we get to work on those beautiful lakes, glaciers, streams, and vistas," said Gooseff.
It was important to Gooseff to communicate the richness of life and biodiversity found in even these extreme conditions to Bourdain and his team. It is an opportunity to perform research in a relatively unspoiled ecosystem—one that may even have parallels to that of Mars. Though the McMurdo Dry Valleys are one of the coldest and driest places on earth, it is home to a multitude of species.
"You don't see trees and grasses and such, yet it is a fully functioning ecosystem—in a polar desert. Life exists in the lakes, soils, streams, and even on the glaciers," said Gooseff.
The landscape may appear desolate, but it is fact teeming with rich microbial communities and entire ecosystems. It is this idea that Gooseff hoped to impress upon Bourdain and his crew during their visit to the station.
"I think he understood that and was fascinated by it, which prompted the question 'Why do you do this?'" said Gooseff.
The team at McMurdo station have been examining the resilience of the Dry Valleys ecosystem for 24 years, researching how it adapts and responds to a changing climate. The wealth of information that years of research produces is invaluable to developing and testing new ecosystem knowledge. The McMurdo LTER team will continue to do research for as long as they can, and they hope that sharing a pizza while discussing their research with Bourdain will help spread the message that their work is important for researching and analyzing major shifts in specific ecosystems. Gooseff stresses that their work in Antarctica is far from over.
"The Dry Valleys have many more stories and secrets to tell but we have to be there to hear them."