Detlev Helmig, Jacques Hueber, and Brie Van Dam share their stories of working on the Greenland Ice Sheet for a podcast entitled "Of Snow Forts and Frostbite: Learning to Work (and Play) at the Poles." The podcast was produced by Beyond Penguins and Polar Bears, an online magazine for K-5 teachers.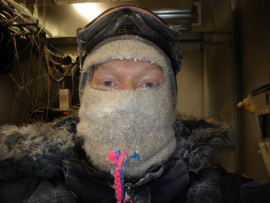 All three researchers are members of INSTAAR's Atmospheric Research Laboratory and have visited the ice sheet repeatedly for several years to help determine how ozone is created and destroyed in snow. They, and additional Lab members have set up complex instrumentation on towers above the ice as well as under it. Taking measurements can be difficult; their winter visits have included days with temperatures of minus 50 degrees Celcius. The team and its collaborators are using their hard-earned climate and atmospheric chemistry data to validate a computer modeling component of the research project. Together, the data and modeling will help determine how the exchange of ozone (and nitrogen) between air and snow impacts Arctic ozone in the lower atmosphere of the Arctic.
Beyond Penguins and Polar Bears is the project of an interdisciplinary team from Ohio State University, College of Education and Human Ecology; the Ohio Resource Center for Mathematics, Science, and Reading; Byrd Polar Research Center; COSI (Center for Science and Industry) Columbus; the Upper Arlington Public Library; and the National Science Digital Library (NSDL) Core Integration team at Cornell University and University Corporation for Atmospheric Research (UCAR).