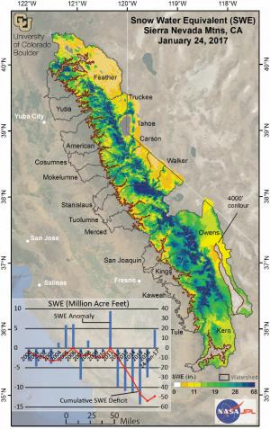 The recent "atmospheric river" weather pattern that pummeled California with storms from late December to late January may have recouped 37 percent of the state's five-year snow-water deficit, according to new University of Colorado Boulder-led research.
Using NASA satellite data, computer models, and ground-based snow sensors, researchers at CU Boulder's Center for Water Earth Science and Technology (CWEST) estimate that the recent storms deposited roughly 17.5 million acre feet of water during the month of January. Compared to averages from the pre-drought satellite record, that amount represents over 120 percent of the typical annual snow accumulation for the Sierra Nevada range.
Snow-water deficit represents the cumulative annual deficit below the average annual snowpack water storage. On average, California has experienced a snow-water deficit of approximately 10.8 million acre feet per year from 2012 to 2016. The total five-year snow-water deficit over that period is roughly 54 million acre feet, but two powerful recent storms appear to have recouped roughly 37 percent of that total in less than one month.
Atmospheric rivers — including the so-called "Pineapple Express" phenomenon known to affect the U.S. west coast — funnel large amounts moisture out of the tropics and bring heavy rain and snow over short periods of time. In January, some areas of northern California received 20 feet of snow in a just over two weeks with some ski resorts and higher elevations more than 30 feet.
While the heavy precipitation is good news for the state, the researchers caution that there is still a long way to go before California will make up its snow-water deficit.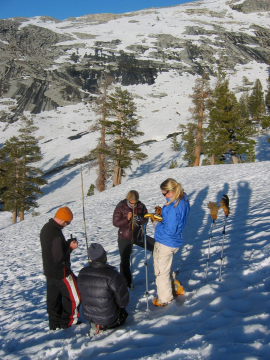 The fast turnaround and accurate results of the study were made possible by an existing science partnership between researchers with the State of California, NASA, and the University of Colorado.
"The start to winter has been the best California has seen since 2011 and gives water managers hope for relief from what has been a historically dry five-year period," said David Rizzardo, Chief of Snow Surveys and Water Supply Forecasting for the California Department of Water Resources. "The valuable data gathered by the CWEST and NASA Earth Science teams gives the California Department of Water Resources a broader sense for how much water is being stored in our snowpack, allowing us to fine-tune vital seasonal runoff estimates which are used by water managers and reservoir operators across the state."
Read more and see more maps at CU Boulder Today.