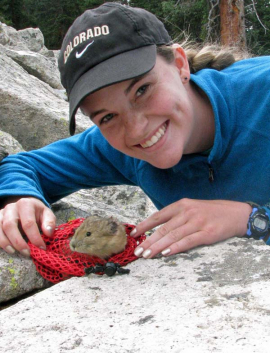 Perched on a mountain ridge at 10,000 feet, University of Colorado Boulder senior Taylor Stratton watches pikas scurrying among boulders and rocky debris. The furry, potato-sized mammals wear colored ear tags that identify them by their home turf, enabling Stratton to track their movements.
"There's Goldilocks," said Stratton, pointing out a juvenile pika with a distinctive golden coloring. "I've fallen in love with that one in particular. I want to know if pikas will be able to adapt to a warming, changing climate. If they went extinct, I think that would be a great loss."
Lower down the wind-swept ridge Brian Shreve collects soil and plant samples in one of the 20 marked-off plots that dot the slope. He is looking for changes in the diversity of plants as a result of nitrogen pollution.
"It's good to get out of the classroom," said Shreve, an Army veteran attending CU-Boulder on the G.I. Bill. "To actually do the science and be involved in creating the project instead of just reading about it is a richer experience."
This summer the two students have been working in the alpine environment of the Colorado Rocky Mountains 26 miles west of Boulder. They are part of the 20 other undergraduates and 30 or so researchers and graduate students who are conducting research at the CU-Boulder Mountain Research Station, an interdisciplinary facility of INSTAAR. Topics studied at the station range from plant and animal ecology to hydrology and atmospheric science.
The undergraduate experience at the station provides students with hands-on training in advanced research techniques at what is widely regarded as the best known site in the world specializing in alpine environmental science. Students and researchers come from all over the country to the station, which has been in operation for 93 years. Research goes on year round, but summer is the busiest time.