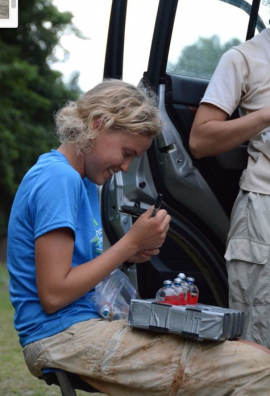 Recent graduate Hana Fancher ('12) is still not sure if there were crocodiles in the settling ponds she sampled in Costa Rica. "Where they discharge the water there were slide marks—something comes in and out of there. But we never saw any."
While still an undergraduate, Fancher conducted her own research project on wastewater ponds at a palm oil plantation in Costa Rica. She found that enough methane was emitted from the ponds to capture as biofuel or power a generator.
Fancher was a work/study student with the Townsend Lab. She credits Will Wieder, then a grad student and later a postdoc at INSTAAR, with encouraging her to conduct her own project. "I didn't know what to pick or if I wanted to take that on," she said. "They do ecology, and I'm becoming an engineer."
The threads came together after Fancher jumped at a chance to be a field assistant with lab members researching carbon and nutrient cycling and biogeochemistry in Costa Rica. She had just taken a course on wastewater through her home department, Civil, Environmental, and Architectural Engineering (CEAE). In the course she learned about pilot projects in Malaysia and Indonesia that harnessed methane as biofuel from wastewater ponds.
Many palm oil plantations have popped up in Costa Rica in the last 25 years. Palm oil is now the world's fastest growing agricultural crop, accounting for more than a quarter of all oil and fat production worldwide. Plantations' wastewater ponds, generally set up in an open lagoon system, conduct basic water treatment as part of palm oil processing. Over the course of several weeks, settling occurs and bacteria are added to consume oil in the water. The bacteria leave behind waste products, including methane. Environmental scientists see methane as a greenhouse gas, but engineers also see it as fuel.
Fancher saw the ponds as a potential source of renewable energy. If enough methane was being emitted from the ponds, the plant could run a generator or capture the biogas for fuel, reducing its greenhouse gas emissions at the same time.
Graduate student Phil Taylor helped Fancher decide how to design the experiment and measure emissions from the ponds. "Working with Phil—it was like I had a tutor or something," she laughs. "That's what learning should be like."
The lab members tested their methods in Boulder Creek, but they didn't really know how the project would work out until they got to Costa Rica. "None of us knew what to expect," Fancher says. "So much has to be done on the fly down there." Undaunted by snags and delays, and with graduate students Samantha Weintraub and Taylor volunteering as field assistants, she had a single day to take samples of water and sediment from each pond.
"It was such a group effort," she says. Once the lab members were back in Boulder, Wieder helped Fancher run the samples safely. Professor JoAnn Silverstein of the Civil, Environmental, and Architectural Engineering department helped her look through an engineering lens at the project.
Fancher made a second trip to Costa Rica with the lab, this time taking samples with microbiologist Terry Legg, then finishing her dissertation.
In the end, she had useful measurements of the methane emissions and was able to give the plantation's environmental manager concrete, practical recommendations. That applied aspect of the project appealed most to Fancher. Showing their own enterprising spirit, the plantation is now constructing an anaerobic digester that will fulfill their energy needs—and reduce their methane emissions.
"Because of this lab, I've realized how important it is to cross boundaries between science and engineering," she says. "There should be a more multidisciplinary approach. It's good to have focus, but that can make it harder to be creative."
"We always hear that when you commit your time to something you're passionate about, how much you get from that," Fancher muses. "But when you get that experience doing it—you really know."