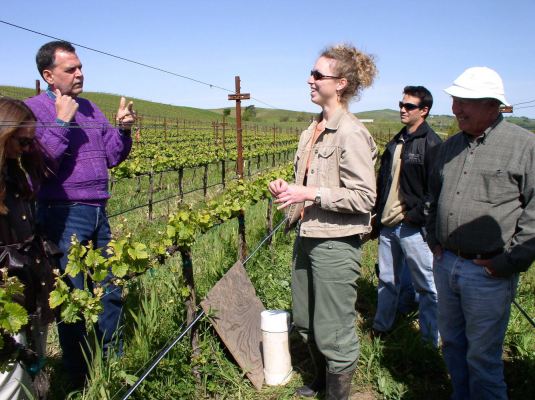 A familiar face is back at INSTAAR.
Eve-Lyn Hinckley, who was a postdoctoral fellow at INSTAAR from 2009 to 2011, has returned to CU as an assistant professor for INSTAAR and the Environmental Studies program.
"It's a great community of researchers," Hinckley said of INSTAAR. "I've enjoyed being a part of it in the past and it's been great to come back."
Hinckley, a biogeochemist, will teach three courses annually in addition to her research. One of the courses, which she co-taught at Stanford while completing her PhD, will focus on ecosystems science field work, a new offering for CU students.
In February, she will also take over as director of INSTAAR's Kiowa Lab, an environmental chemistry laboratory for the Niwot Ridge Long-Term Ecological Research Program.
Hinckley is working on two primary research projects at INSTAAR. The first studies the sulfur cycle in wine vineyards of Northern California. Sulfur is used as a pesticide to prevent crop damage on these vineyards, and is known to have negative effects on a variety of ecosystems. Hinckley's previous work has shown that storms and heavy rainfall wash the applied sulfur away from the vineyards, which could have consequences for aquatic ecosystems downstream.
"I really want to keep pushing this problem about water use and sulfur use in agriculture, which hasn't really been studied that much, said Hinckley. "I call it my after-acid rain research; it's sort of the new phase of research on human impacts on the global sulfur cycle."
"The question in Northern California now is, what's the consequence of sulfur applications at the watershed scale?" said Hinckley.
With the ongoing drought in California putting stress on local water systems, Hinckley is also looking at potential solutions for vineyards in the region, such as dry-farming grapes. Fostering sustainability of natural resources is an important part of her work.
"For me, sustainability means sustaining an industry, sustaining a way of life, across generations," she said. "Implied in that is caring for the environment, or considering the environment in one's practices."
Her other research project is right here in Colorado, studying how nitrogen moves from human sources on the Front Range, such as agricultural fertilizer use, up into the mountains through the atmosphere during spring upslope storms. This nitrogen deposition has the potential to change forest landscapes, even in areas with little direct human activity.
"We know that very small amounts of additional nitrogen can have major ecosystem consequences," said Hinckley.
Both projects have involved a lot of community involvement, engaging with farmers, landowners, policymakers, and students. Hinckley believes it's important to engage all stakeholders in meaningful dialogue, and she often takes as much as she gives from these discussions.
"For me, sustainability means sustaining an industry, sustaining a way of life, across generations. Implied in that is caring for the environment."
"One thing I told myself when I got into doing scientific research was that I didn't want to get to a place where I could only have conversations with other scientists," she said. "I wanted to be able to talk to a diversity of people."
Hinckley even developed a weeklong summer course for the Boulder Creek Critical Zone Observatory which took middle school students all the way up to the alpine and down to the plains to study the water system.
"I basically took them on the path of a raindrop or snowflake through their local environment," she said.
Hinckley believes that hands-on learning is one of the best ways to get people interested in environmental problems, and hopes that these outreach efforts can help to convince members of the public to take action.
While studying environmental problems caused by human activity can be discouraging, Hinckley does her best to stay positive, focusing on pragmatic solutions.
"I've seen on these small, local to regional, scales, changes take place, and that fuels me to keep going and to get students engaged in this type of work," she said.
Hinckley is looking forward to collaborating with a variety of researchers at INSTAAR, CU, and other scientific organizations in the area. She sees interdisciplinary collaboration as a necessity in studying modern environmental problems.
"More and more we need to get out of our comfort zones and collaborate with colleagues across disciplines in order to effectively address problems," she said. "To see some of the results of our work get translated into practice—that's something that really motivates me in my work."
With all of these undertakings, Hinckley probably won't have much time to relax and enjoy a glass of California wine. But should you refrain due to environmental concerns?
"Not yet."