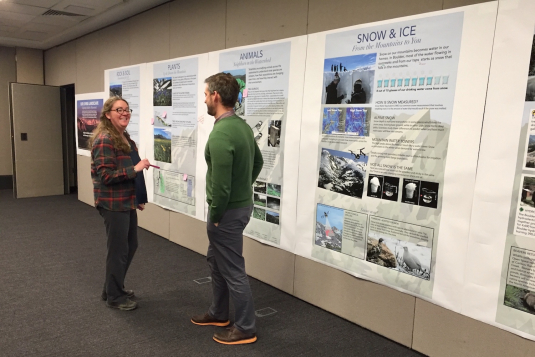 Boulder is known for its water-carved landscapes that sweep from the peaks of the Continental Divide to the iconic Flatirons, and down to the grassy plains. Most of us live, and many of us do our research, in this watershed—the land that forms our streams and supports life. An educational exhibit on the Boulder Creek watershed is opening at the Museum of Boulder on Friday, January 31 from 5:30-7:30 p.m. All are welcome at the opening reception, which is free.
The exhibit, Our Living Landscape: Exploring Boulder's Watershed, features videos, panels, and a large three-dimensional model of Boulder's terrain. Designed for adults and children, it shares what we've discovered about the land, plants, animals, water, and climate of the place we all call home. We are also hosting K-12 field trips for schools to engage with a team of CU graduate students for "Demo Days" with hands-on activities.
The watershed exhibit is a collaboration between research programs centered at INSTAAR, including the Boulder Creek Critical Zone Observatory, Niwot Ridge Long-term Ecological Research program, and Center for Water Earth Science and Technology; and many partners including Boulder County Parks & Open Space, City of Boulder, and US Geological Survey. It is funded by the CU Office for Outreach and Engagement. It will remain on display at the Museum of Boulder through the end of March.