Specialty
Ecohydrology; Catchment hydrology; Snow hydrology
Research Interests
Streamflow generation mechanisms; geomorphological controls on hydrochemistry; ecohydrologic feedbacks following forest disturbance; modeling snow-vegetation interactions; water availability following environmental change
Bio
I have started a new positon at the University of Nevada, Reno. This page will no longer be updated (as of 9/1/2014). Please visit my new website at www.ag.unr.edu/harpold
Now Director of the Nevada Mountain Ecohydrology Lab, Reno, NV
My main interests are in quantifying catchment and basin scale water and solute budgets and the linkages between hydrology, hydrochemistry, geomorphology, and ecology in montane forested systems. Moutain ecosystems are the major water source and carbon sink in western North America and subject to ongoing changes in climate and disturbance. Improved ecohydrological process understanding has the potential to improve local to global-scale water resource management in the 21st century.
My research program utilizes existing observation networks and new field observations to improve the ecohydrological process underpinnings of Earth systems models. My diverse interests and background has led to investigations of runoff generation mechanisms, via hydrological tracers and models, as well as the partitioning of water to its various stores and fluxes. I am particularly interested in better linking the hydrological sub-disciplines of catchment and snow hydrology to improve our predictions of headwater catchment response. For example, at the University of Arizona I investigated water partitioning following Mountain Pine Beetles and fire in forested, headwater catchments in the Rocky Mountains.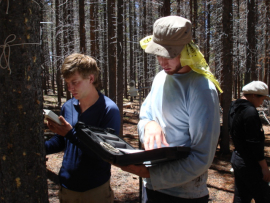 Currently I am pursuing a NSF Earth Sciences Postdoctoral Fellowship to improve representations of snow-vegetation interactions and water partitioning in land surface models (http://nsf.gov/awardsearch/showAward.do?AwardNumber=1144894). I work jointly with Noah Molotch at INSTAAR and David Gochis at NCAR. This work focuses on sites within the Boulder Creek CZO, but also includes work in the Southern Sierra CZO, CA and Jemez River Basin-Santa Catalina Mountains CZO, NM. The process-based work at the CZO sites is being translated to the continental scales using larger measurement networks.
Check out the Research and Publications pages for more details. You can also get a better idea of what I do from my photo galleries.
Awards
NSF EAR Postdoctoral Fellowship, NSF, 2012
NSF Doctoral Fellowship, NSF, 2005