Research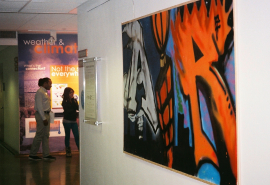 EcoArts Connections' mission is to bring the arts together with science, social justice, and other fields to deepen public understanding of global change and speed the shift to sustainable living.
EAC was founded to create a new role for the arts in addressing environmental crises and is based on social science research that demonstrates that effective action requires a combination of cognition and affect (mind and heart) working together, rather than separately or alone. EAC brings together the affective power of the arts with the cognitive power of science, social justice, and other fields in activities designed to make sustainability personal, visceral, and actionable, and to move people—emotionally and physically—to live more sustainably. In this way, EAC working with its collaborators, reaches more people more effectively and beyond the "already convinced" sustainability choir than either an only-cognitive or only-affective approach can do alone.
EAC commissions, produces, presents, and consults on a wide variety of activities including performances, exhibits, talks, tours, workshops, panel discussions, youth programs, conferences, and symposia, that have been held in venues such as museums, theaters, schools, coal-fired power plants, buses, and gardens, among others. EAC activities have been presented locally in Boulder, Denver, and Fort Collins, and nationally in Seattle, Indianapolis, Washington, DC, and New York City. Audiences include people of all ages, ethnicities, religious backgrounds, and persuasions.
EAC has worked with professional artists of regional, national, and international stature in visual art, dance, theatre, poetry, media, and music. EAC activities have received media coverage in local print and electronic media and in national media, including the New York Times, Art in America, Dance Magazine, Washington Post, and the Voice of America.
Collaborators have included art and natural history museums, performing arts presenters, city planners, energy and transportation specialists, schools, government agencies, environmental groups, and university departments, among others. Through working in collaboration, thinking "eco-systemically," and sharing and leveraging resources, EAC and its collaborators are able to do much more together than any single entity could do alone.
Research Photos & Videos