Specialty
Glacial and climate history of mountainous areas in New England, western North America, and Baffin Island.
Research Interests
Glacial and Quaternary geology; Holocene glacier fluctuations and climate change; Quaternary palynology; lacustrine sedimentology; alpine geomorphology; glacial erosional and depositional processes.
Bio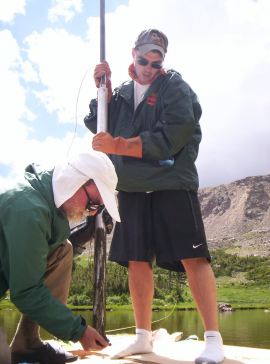 P. Thompson (Thom) Davis received his BA from the University of New Hampshire, his MA from the University of Maine, and his PhD from the University of Colorado-Boulder, with all three degrees in geology. In 1980, while pursuing postdoctoral research at the University of Washington, he survived the cataclysmic eruption of Mount St. Helen's with less than an hour to spare. His research is funded primarily by the National Science Foundation, and focuses on glacial geology and climate change, a specialty that has taken him on more than a dozen expeditions to Baffin Island in the eastern Canadian Arctic. He also pursues glacial geology research in western United States, including the Washington Cascades and the Rockies of Colorado and Wyoming. Related research includes travel to Antarctica, New Zealand, Australia, the Indian and Nepalese Himalaya, Tibet, China, Iceland, Scandinavia, the European Alps, Namibia, South Africa, Kenya, Tanzania, Tierra del Fuego, Alaska, and Hawaii. When not traveling farther afield, Thom spends time hiking, skiing, renovating a house in the White Mountains of New Hampshire, and buying and selling used books about mountaineering and polar exploration.