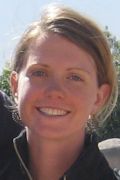 2013 MA
Departments
Education
BA: Whitman College, 2006
Contact Information
morgan.zeliff@colorado.edu
University of Colorado Boulder
Institute of Arctic and Alpine Research
Campus Box 450
Boulder, CO 80309
Specialty
Hydrologic cycle, snowmelt dominated watersheds, hydrochemistry, GIS.
Bio
Awards
Young Investigators Award, BASIN Isotope Conference, 2011
Research Statement
Active Research
Research Programs
Featured

Publications

John Knowles, Adrian Harpold, Rory Cowie, Morgan Zeliff, Holly R. Barnard, Sean P. Burns, Peter D. Blanken, Jennifer Morse, Mark W. Williams 2015: The relative contributions of alpine and subalpine ecosystems to the water balance of a mountainous, headwater catchment. Hydrological Processes, 29(22): 4794-4808. DOI: 10.1002/hyp.10526
Theses & Dissertations
Hydrochemistry, residence time and nutrient cycling of groundwater in two, climate-sensitive, high-elevation catchments, Colorado Front Range.. Morgan Zeliff. University of Colorado Boulder, MA, 2013.
Teaching Statement
Postdocs & Students