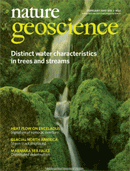 The CU Ecohydrology group is focused on investigating how vegetation processes affect water flow dynamics and pathways in soil and streams, and conversely, how water flow paths affect vegetation function in mountainous terrain. The ultimate goal is to improve our knowledge of how changes in land-use and/or climate will affect water resources and ecosystems. Our interdisciplinary research uses state-of-the-art techniques to reveal patterns and processes at scales ranging from the leaf to the watershed.
How to Join
The Barnard Ecohydrology lab is always looking for well-qualified, enthusiastic students to join our group. Undergraduates interested in research experience or potential senior projects should contact Dr. Barnard.
Prospective graduate students should examine the current publications and lab webpage to determine if the CU Ecohydrology Lab has interests compatible with their own. Potential graduate students are encouraged to contact Dr. Barnard in advance of applying to the department to discuss research projects and funding opportunities.