Lab Outreach
Education extends beyond the classroom and laboratory. The Ecohydrology group is committed to promoting science and engaging with students to expand their growth and opportunities. We engage with K-12 students, undergraduates and greater community. Here you will find some of our more recent activities.
In 2014-15, Holly Barnard has been a volunteer scientist with the Earth Explorers program which is located in Longmont, CO. Earth Explorers is an independent nonprofit that provides Science and Filmmaking Education programs to middle-schoolers who need it the most. Students learn not only about science, but also how to make a film. Working with this group of students is extremely rewarding and super fun.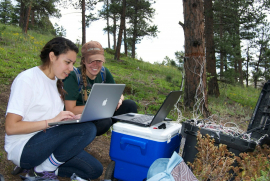 As part of our research projects, the Ecohydrology lab recruits underrepresented students at the undergraduate level to the earth sciences via the NSF-funded UNAVCO Research Experience in Solid Earth Science for Students (RESESS) program. RESESS is an undergraduate summer internship program that is dedicated to increasing diversity in the geosciences located in Boulder, CO. Barnard has served a RESESS mentor for three years.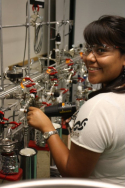 The Research Experience for Community College Students (RECCS) summer research internship program in critical zone science is available to community college students from across Colorado. This research opportunity offers a unique opportunity to conduct research, both field and lab based, while working with a team of scientists. Students will learn basic research, writing and communication skills, and they will present their research at a local student science symposium, as well at a national conference.
Watch Ecohydrology Lab RECCS student Kevin Thirouin give his first "elevator speech" on his research project: https://www.youtube.com/watch?v=aDdT-C3WITk&feature=youtu.be