SIL survives the covid times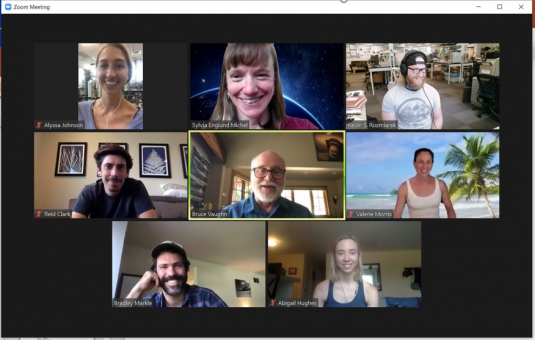 When the world shut down, we kept the lab running. There were some hard days, troubleshooting instruments over face time, working odd hours so there weren't too many of us in the lab at a time, delivering flasks and pfps out the back door. .. but we did the best we could. Field seasons in Greenland and Alaska were canceled, which was disappointing to say the least. And amidst all the craziness, keeping up with the website was not a high priority! Lab meetings over zoom kept us in touch, and we took the opportunity to invite notable guests to speak to us, including Dr. Eric Steig (University of Washington), Dr. Heiko Moossen (Max Planck Institute), Dr. Peter Sperlich (NIWA, NZ), and Dr. Thomas Rockmann (Utrecht University, The Netherlands). We have working almost normally since summer of 2020. We enjoyed some outside happy hours in the cold, gratefully embraced the arrival of vaccines, had a brief respite from masks in the summer and are now on board with masks and boosters as we move into another winter. Along the way, we said goodbye to Alyssa Johnson and Seth Kurtz (we miss you guys!), Abby Thayer rocked her PhD dissertation, and both Will Skorski and Chloe Brashear defended their Masters theses. Abby now has a job in environmental consulting, Will is off to South Pole, and Chloe joined us as a PRA. Oh, and did I mention that we hired a new faculty member, Dr. Bradley Markle? Maybe I'll add some more detail about all this big news ... when we get a new website, coming soon! November, 2021.
SIL finds solidarity at GGMT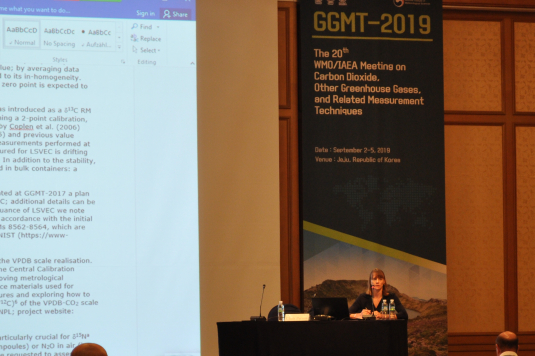 In early September 2019, Sylvia and Bruce, along with lots of NOAA colleagues, went to the 20th WMO/IAEA Meeting on Carbon Dioxide,
Other Greenhouse Gases, and Related Measurement Techniques (GGMT-2019) on Jeju Island, South Korea. This meeting, started by Dave Keeling and formerly called the CO2 experts meeting, is a gathering of people who make careful measurements of greenhouse gases for atmospheric monitoring. These are our people! Sylvia presented a talk called "JRAS-06 or bust - The INSTAAR Stable Isotope Lab revises its ties to primary standards and releases a revised data set of d13C-CO2 and d18O-CO2", referring to a change in our local realization of the VPDB-CO2 scale. Stay tuned for more on that. Sylvia also presented a poster regarding error in our methane isotope measurements, and Bruce presented a poster regarding the drone as a tool for atmospheric sampling. It was a great meeting, despite a near-direct hit by Typhoon Lingling. And Korean barbeque is amazing. September 2019
SIL is flying skyward!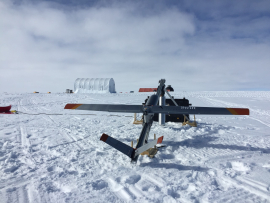 Following a successful proof of concept run in 2018, and some Boulder-based testing, our drone team returned to EGRIP in summer 2019 with a vengeance. Sporting the new Blackswift S2 fixed-wing UAV, we took to the skies sampling water vapor up to 1600m! Here is our maiden flight ... with many more to come! June 2019.
EGRIP CFA a big success!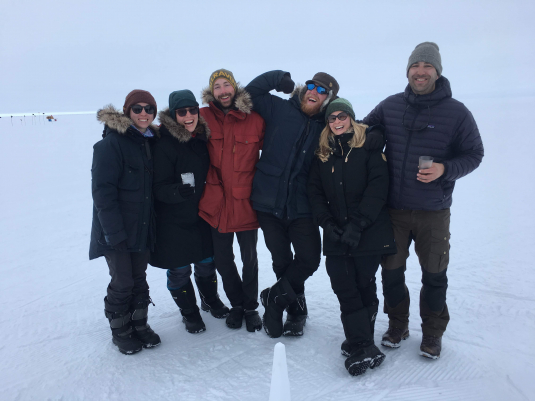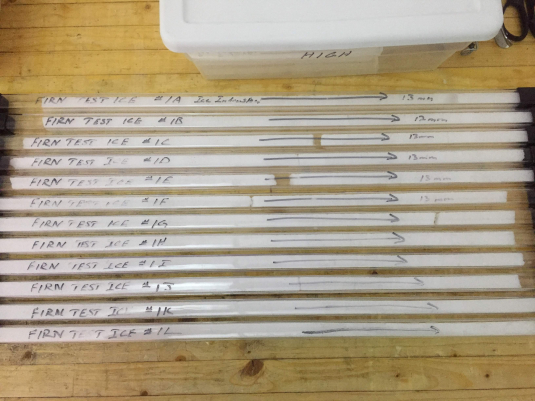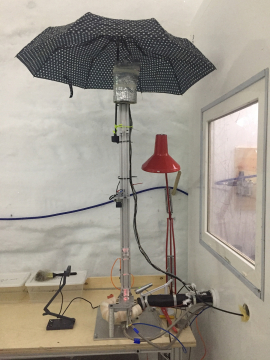 The SIL ice core team, along with helpers from Norway, had a terrific season at the East Greenland Ice Core Project. Unlike the old days of using isotope ratio mass spectrometry, we now usd a Continuous Flow Analysis (CFA) system coupled to a Picarro Cavity Ringdown Mass Spectrometer to provide high-resolution measurements of stable water isotopes in ice cores - in the field! Stable water isotopes in ice cores are the backbone of paleoclimate reconstructions over the last 800,000 years. The isotopic signal associated with ice cores is thought to represent the condensation temperature of precipitation. As temperatures warm, ice core records become relatively enriched in heavy water isotopes (18O and 2H), and when temperatures cool, they become relatively depleted. These variations are recorded in the ice and can be used to reconstruct past temperatures. Stay tuned for results from this drilling project!
It's a bird! It's a plane! It's our new sample collector!
Stable Isotopers witness a dramatic launch of the test flight of the Black Swift Technologies fixed wing UAV carrying glass sample flasks that will be used in Greenland this summer to collect water vapor samples from various altitudes above the ice sheet. Little is known about the structure of the isotopic water vapor gradients immediately above the ice, and understanding these over time, will give us better insights into the isotopic exchange processes between the ice sheet and the atmosphere. This feeds the interpretation of paleoclimate proxies in the deep ice core, as well as helping to quantify direct sublimation of the ice sheet - which is important for the Greenland mass balance calculation and estimates of sea level rise. May 2019.
SIL-GHG team visits the flask sampling crew at NWR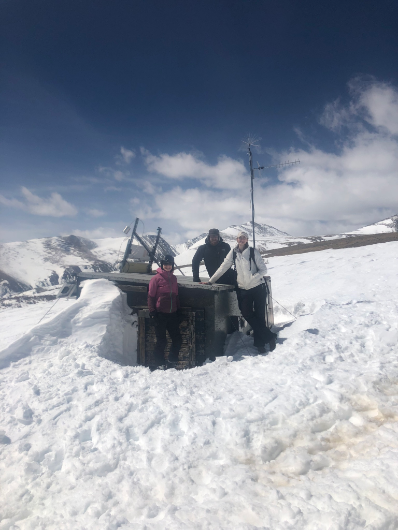 Sylvia wanted to show Alyssa, and Kevin how flasks are sampled in NOAA's Global Greenhouse Gas Reference Network - so we headed to the Mountain Research Station at Niwot Ridge. Tyler Lampard gave us a ride on the snowcat and showed us the procedures for filling flasks and programmable flask packages. Alyssa an Kevin then helped Tyler with some chores at the tundra lab, and Sylvia skied down with NOAA colleague Duane Kitzis. (Thanks for the fun tour, Duane!)
It's good to get out of the lab once in a while!
Welcome new SIL folk!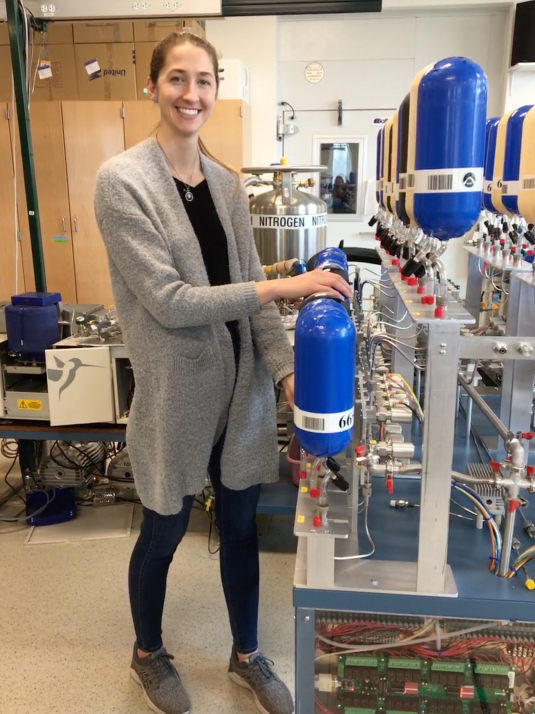 Alyssa Johnson joined our team in Sept 2018. Alyssa comes to us with a BS in Geology from College of Charleston and a MS in Geoscience from Baylor University. After finishing her master's degree in 2017 she worked for AAAS and the National Park Service, but she's glad to have found her home at SIL! Since starting in September she's learned so much about running and maintaining the instruments here and feels so fortunate to be part of a lab with such fantastic coffee. September 2018.
SIL's coolness factor increases exponentially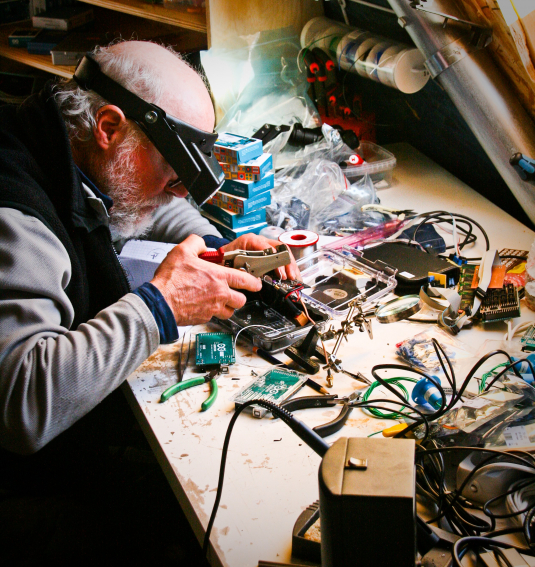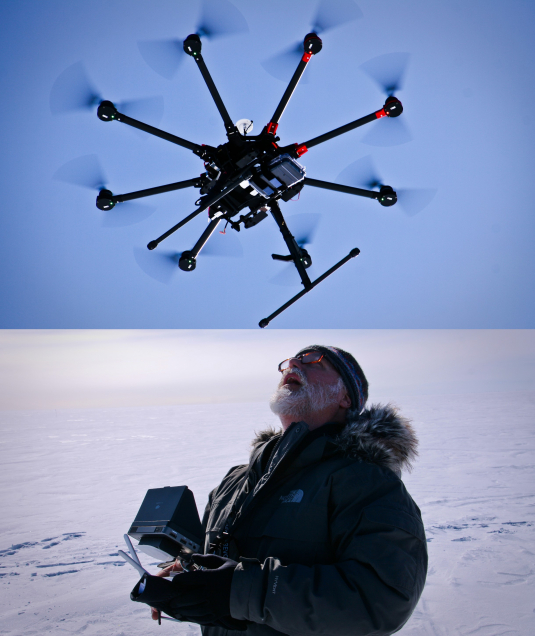 Our research is reaching new heights, literally. For years we have been trying to understand what the ice sheets can tell us about the atmosphere. Now we are trying to understand what the atmosphere can tell us about the ice sheet. Bruce Vaughn and the drone team - Tyler Jones, Will Skorski, Abby Thayer, Valerie Morris, and Kevin Rozmiarek - developed a sampling manifold that travels by drone up to 1500 ft and collects samples in glass flasks. The samples are measured on a Picarro CRDS instrument for water vapor isotopes. Plus they all got to go to drone school. May 2018.
Dr. Jones publishes in Nature!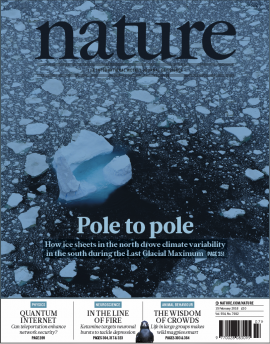 Tyler Jones made us proud yet again - his work on the WAIS Divide Ice Core was published in Nature AND earned the cover picture. He and his colleagues showed that the demise of big ice sheets since the last glacial period changed atmospheric circulation from pole to pole: Indonesia went from grassland to rainforest, and year-to-year climate variability in West Antarctica was cut in half. Cool stuff!! See the article here. February 2018.
Vimont et al., published!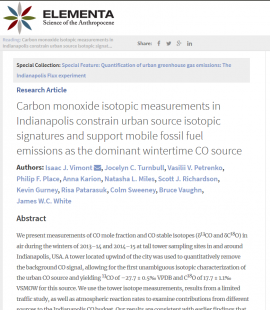 Isaac's paper was published in Elementa. Since each point on his plots represents six hours of carefully monitoring his manual preparation line and mass spec, it is quite satisfying to see this work in print! Isaac and his colleagues showed that in the winter time, stable isotopes of carbon monoxide collected at towers in and around Indianapolis can be used to constrain the amount of carbon dioxide that comes from fossil fuels in that urban environment. This work was part of the INFLUX (Indianapolis Flux Experiment) project. January 2018.
Good on you, Isaac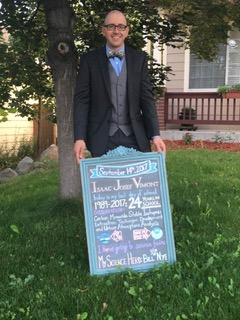 Isaac Vimont joined our crew in 2007 as a technician and then went back to graduate school a few years later. And look at him now - he defended his PhD dissertation on Sept 14, 2017. Dr. Vimont was awarded a National Research Council post doc from the National Academy of the Sciences, to pursue his studies of stable isotopes of carbon monoxide. Though he now sits across town, he'll run his instrumentation here at SEEC. .. which is awesome, since we know we'll still rely on him for his technical expertise! You're always one of us, Old Friend. September 2018.
Switzerland hurrah!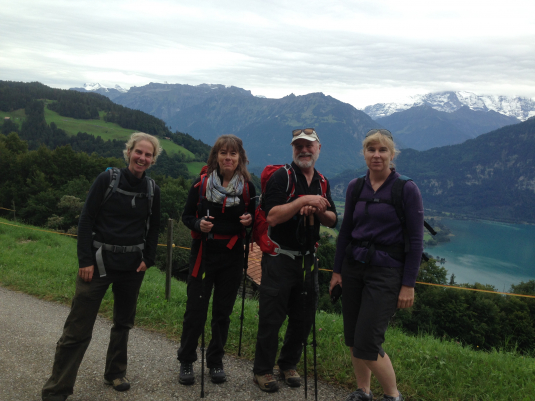 Bruce and Sylvia traveled to Zurich, Switzerland for the Greenhouse Gas Measurement Techniquest meeting, and met with the handful of people in the world who care about the intricacies of stable isotope measurements of greenhouse gases. The meeting was great, Sylvia's talk fostered lots of conversation, and we enjoyed building bridges with experts from around the world. Plus, Switzerland is beautiful. Both Bruce and Sylvia spent some time in the Alps after the meeting, meeting up with Tyler Jones who was in Switzie for an Ice Core meeting. We also got to meet up with SIl alum Jacqueline Fluckiger, INSTAAR alum and SIL-friend Jocelyn Turnbull in Thun. Let's have SIL reunions in Europe more often!! September 2018.
We'll miss you Owen. . .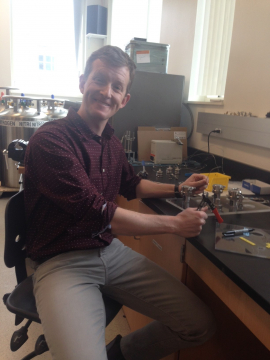 Our ace technician, stellar post-doc and dear friend has left us . .. boo hoo! Owen Sherwood is now Assistant Professor in the Department of Earth Sciences at Dalhousie University in Halifax. Owen brought some real skillz to our group: the performance of our carbon methane isotope instrument improved noticeably during his tenure at SIL! The hydrogen instrument is still a work in progress! But most of all, it was awesome to have Owen as part or our crew, and he will be missed. Best of luck to Owen, Sarah, and sweet lil' baby Georgia. July 2018.
SIL folk head to East GRIP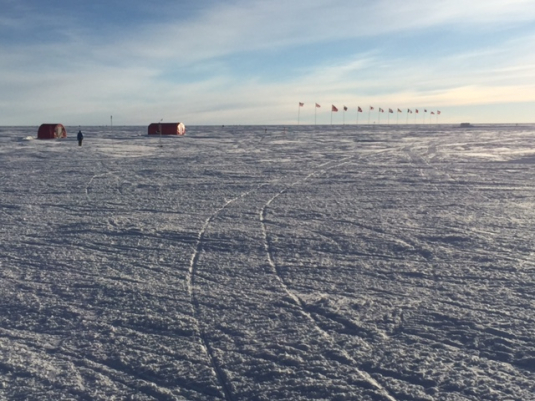 SIL head honcho Brucey, ice core diva Valerie, and eager grad student Abby Thayer headed to East Greenland to partipate in the East Greenland Ice-core project. They will operate the continuous melter systemc coupled to a Picarro CRDS analyzer that measures isotopes of water in the core. For Abby and Valerie, this is the first time on the Ice! For Bruce, we lost track years ago! We can't wait to hear your stories!! And the wealth of data will undoubtedly unlock more paleoclimate mysteries! May 2018.
Welcome New Guy!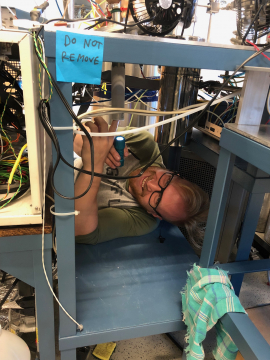 Kevin Rozmiarek joined the SIL crew in April 2017. He has a MS in applied physics from Colorado School of Mines, which makes him, like, wicked smart. Most remarkable is that he has worked with colleagues of ours in a stable isotope mass spectrometry lab, so he has real skillz! Plus he fits right in to our quirky crew. Yay Kevin - glad to have you on board! April 2018.
SIL science on stage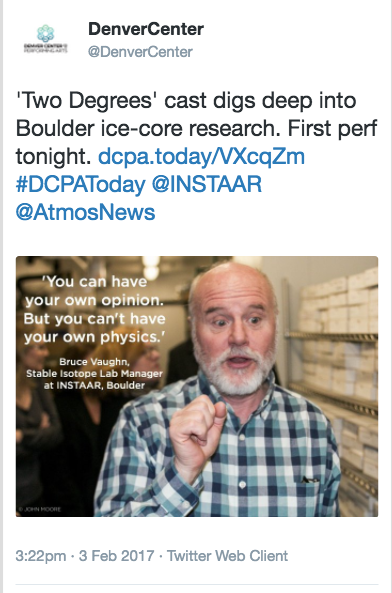 The cast of Two Degrees - a play about a scientist who studies global warming in Greenland and testifies about her research to the senate - visited the Stable Isotope Lab to see what real climate science looks like. Bruce fascinated them with stories and pictures from his Arctic and Antarctic research, and showed them the instrumentation that helps us understand past climate. He also made them spend a few minutes in the freezer! This highly acclaimed production brings an important issue to the stage with humor and deep emotion, and brings science to the public in a way that scientists can't. Two Degrees was written by Tira Palmquist and is directed by Christy Montour-Larson, and is playing at the Jones Theater in Denver.
SIL hosts Front Range Isotope Day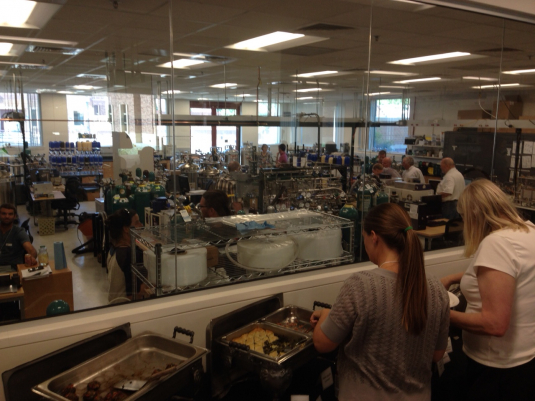 The 6th annual FRIDay meeting was held at the SEEC complex on Friday, Aug 12, 2016. Almost 90 isotopically-minded people were here to enjoy a keynote presentation by Dr. Eric Steig from the University of Washington, and science and technical talks from experts from up and down the Front Range. The afternoon was full of lab tours, followed by a fun happy hour where we could get to know our colleagues.See the agenda and abstracts on the FRIDay website. Looking forward to the next FRIDay at the University of Wyoming!
Jim tours Greenland with Bill Nye the Science Guy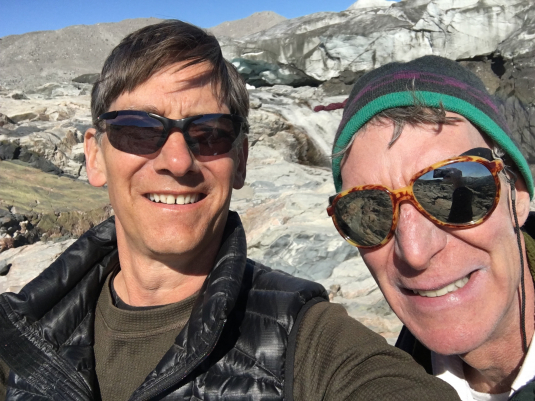 SIL PI Jim White spent a week in Greenland with Bill Nye - YES, THAT BILL NYE! - touring glaciers and discussing ways to communicate climate change to the public. Bill Nye, please come visit us at the Stable Isotope Lab! Most of us under the age of 40 are scientists because of YOU!! Whenever you can fit it into your schedule, we'll give you the Best Lab Tour Ever. And a surfing polar bear tee-shirt. We love you Bill Nye.
Owen and his team make headlines with methane study
SIL team member Owen Sherwood was the lead author on a study examining methane in groundwater around the Denver-Julesburg Basin. There has been much concern that the increasing use of fracking to extract natural gas would cause increased methane in the water; however, the extensive database that Owen and co-authors examined showed that there has not been much of an increase in the amount of methane, and much of it was derived from microbial, rather than fossil fuel-related sources. His study, part of the AirWaterGas project, was published in the National Proceedings of Science. Read a story about Owen's work.
SEEC is officially opened! SIL makes the Daily Camera.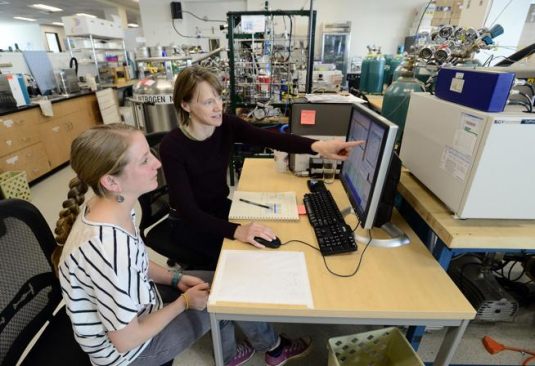 Discovery Drive saw more suits and heels than usual on April 14, when Deans and Chancellors and Donors, as well as the students and faculty, celebrated the Grand Opening of the SEEC complex.There were speeches, cake, and tours of the renovated office and dry lab space as well as the new SEEL wet lab building. The Stable Isotope Lab even made the Daily Camera with a picture of Andrea Sack and Sylvia Michel working on our d13CH4 instrument, and wise words from Bruce Vaughn, our lab manager, and Jim White, our PI and institute director.
New and improved SIL on display at workshop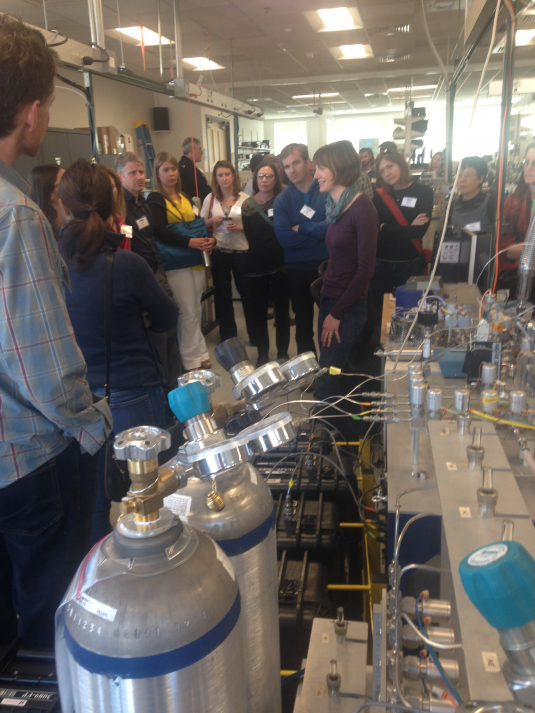 The stable isotope lab was highlighted at the 2016 Climate and Colorado's Water Future Workshop. Assistant Lab Manager Sylvia Michel gave a presentation, highlighting our work measuring stable isotopes of water from ice cores, and isotopes of carbon dioxide and methane. Workshop attendees then toured the lab (we can fit a lot of people in here!), hearing about the instrumetnation and alalysis from Sylvia as well as Owen Sherwood and Isaac Vimont. It seemed like a big hit!
Isotope data explain the causes of methane slow-down and renewed increase
A new paper in Science, led by Hinrich Schaefer of New Zealand's National Institute of Water and Atmospheric Research, uses our methane isotope data to test models of changes in the methane cycle over the last 30 years. Methane has increased since pre-industrial times but leveled off between 19990-2006; then began to increase again in 2007. The study argues that the slow-down in emissions was probably due to decreased emissions from fossil fuel sources, probably as a result of the collapse of the Soviet Union, and the renewed increase is likely from biogenic (microbial) sources, probably wetlands and/or agriculture in Asia. The data relies heavily on INSTAAR data: isotopes of methane are useful because the three classes of sources - microbial, thermogenic (fossil fuel related) and pyrogenic (biomass burning) all have distinct isotopic sources. We are glad to see our efforts in the lab make their way to Science!
SIL members down under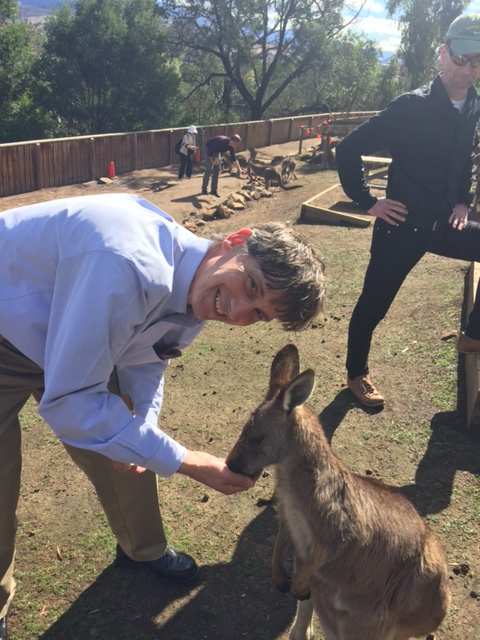 Jim White, Bruce Vaughn, and Tyler Jones went to the 2016 IPICs meeting - International Partnerships in Ice Core Science - in Hobart, Australia. Tyler presented his work with the WAIS Divide ice core, and Bruce and Jim made friends with a kangaroo.
The new-and-improved SIL is hosting FRIDay 2016!
We look forward to hosting Front Range Isotope Day in August (vote for your preferred date on the website!) We are excited for the meeting to return to CU INSTAAR where it started in 2011, and to showcase our new lab in the SEEC building. .. this FRIDay will be better than ever! Stay tuned for more details.
THE NEW LAB IS AH-MAAAZING!!!
Despite a few small glitches, the new lab at SEEC is looking great! The new lab is empty, except for the roughing pumps we left behind. (Hello scroll pumps!!)
We've moved! The old lab is nearly empty.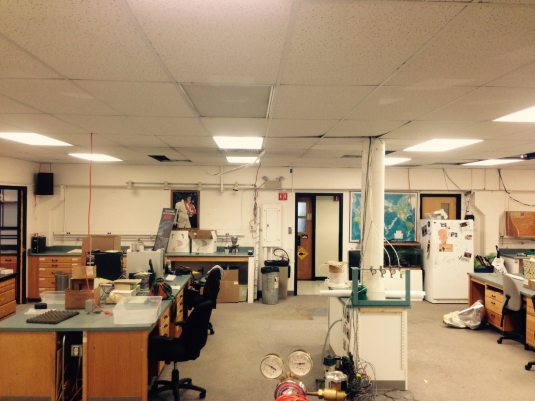 Sniff sniff. .. our home for 26 years is now an almost empty room with stained carpets and obsolete rotary pumps. Goodbye windowless, soul-sucking, always-too-hot-or-too-cold, roach-infested ghetto lab. Goodbye Crazy Larry in the basement who rattles the pipes. We'll remember you fondly. (And we'll keep coming back until Move Wave 2.)
Dressed for freezer success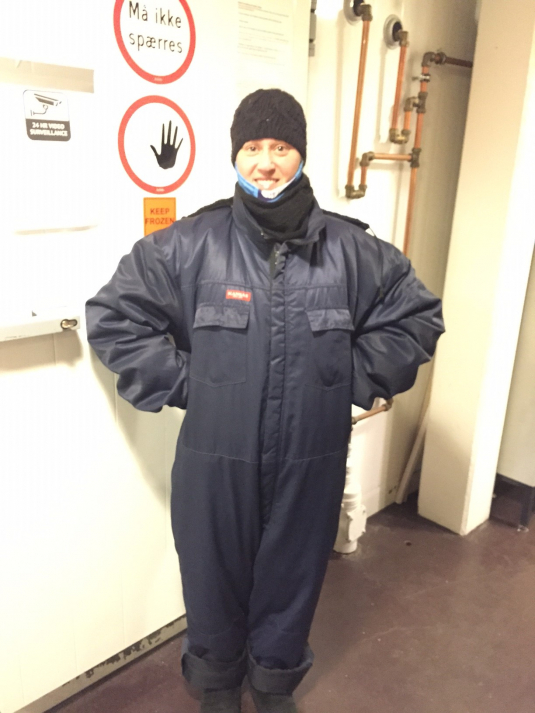 Valerie ventures into the freezer to cut the ice core lengthwise into a thin section that will go into the melter. Stay warm in there, Valerie!
Members of the INSTAAR SIL team venture overseas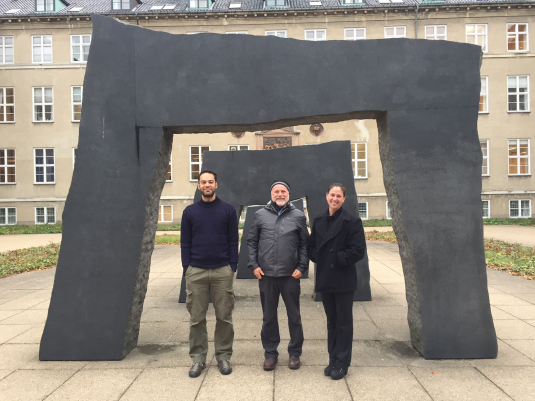 Bruce Vaughn and Valerie Claymore will spend time in Copenhagen this fall working with our colleagues at the Niels Bohr Institute. They will help set up and implement a melter system identical to the one in Boulder to use on the Renland Core that was drilled last summer. Enjoy the sights of Denmark, Bruce and Valerie! We'll be thinking of you while we're packing up 25 years of Stable Isotope Lab history for our upcoming move! October 2015.
Dr. Jones visits the Arctic as an artist AND a scientist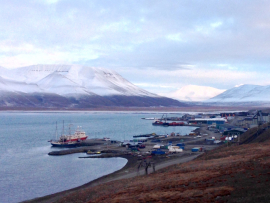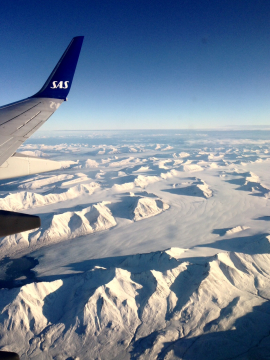 Tyler won a prestigious Arctic Circle Residency, where he explores "The Sounds of Climate Change." He and the other artists departed in early October from Svalbard, Norway aboard a Barquentine Tall Ship to explore the Arctic archipelago, situtated at 80 degrees N. We hope you dressed warm, Tyler! We look forward to seeing more pictures (and hearing the sounds of the Arctic) in a few weeks. October 2015.
FRIDAY 2015 a big success!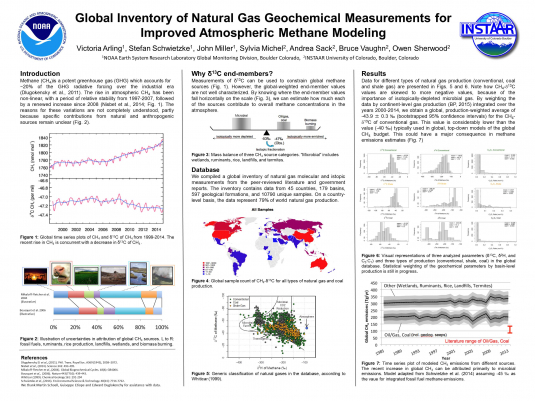 The Front Range Isotope Day tradition continues - this time at the USGS in Lakewood by our friend and colleague Matt Emmons. Sylvia Michel gave a presentation on our twenty-five year record of isotopes of carbon dioxide and interesting recent changes in atmospheric methane isotopes, and Victoria Arling won a cash prize for the best poster, which explained her summer internship working with Owen Sherwood researching the isotopic composition of fossil-fuel related methane emissions. Way to go Victoria! August 2015.
RECAP, explained
Bruce explains what he did this summer vacation. July 2015.
The School of Ice visits INSTAAR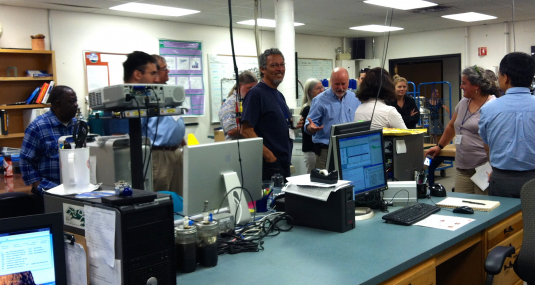 On June 16, 2015, Bruce Vaughn hosted a cadre of 12 professors from Minority-Serving Institutions across the country who were attending a four day, Denver-based course called School of Ice. Developed by the US Ice Drilling Program Office with funding from Lockheed Martin, the course goals included strengthening the background knowledge of participants about how the discoveries coming out of ice core research are informing our understanding of the global climate system and enhancing their instruction of students at their home institutions. In addition to presentations about the latest in stable isotope research, Bruce treated the group to a tour of the Stable Isotope Lab. June 2015.
Hardly a peep from Bruce in Renland…but finally, a sighting!

The cold never bothered them anyway

Our lab manager, Bruce Vaughn, and our PI (and institute director) Jim White are heading to Greenland's east coast to participate in RECAP, an ice core drilling project on the Renland Ice Cap. Jim and Bruce partipated in the pioneering GISP2 and NGRIP ice core projects as well as many projects since, and both are eager to leave email behind, renew their credibility as (bi-)polar researchers, and collaborate with colleagues and friends from the University of Copenhagen. The core will provide a continuous record of temperature and atmospheric gases through the Holocene, as well as valuable information about the export of sea ice. April 2015.
Earth Vision Institute highlights Bruce
Bruce toured the Utah desert with photographer and climate activist James Balog, exploring the imact of oil and gas development on our National Parks, AND our atmosphere. Bruce, you might have a future in film!
Methane hunters at work

Bruce Vaughn and Owen Sherwood, along with colleagues from NOAA, both spent time in the Four Corners Area searching for a source of methane that had been detected by satellite. Using Bruce's own methane-mobile, equipped with a Picarro methane isotope detector and some very sophisticated plumbing, the SIL team measured d13C of methane in order to help characterize sources. This area has known natural seeps of methane, but significant oil and gas extraction and related infrastructure may be contributing to the very high concentrations of methane that were measured on the ground and confirmed that the area is indeed a hotspot of emissions. Stay tuned for more results! April 2015.
AirWaterGas research highlighted by NSF

Science360, the NSF science news service, highlighted CU (and SIL's) research on the effects of the oil and gas industry on air and water quality. April 2015.
Well done, Dr. Jones!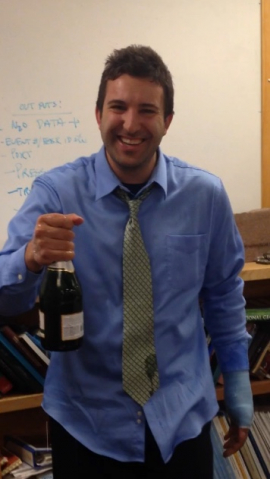 Tyler R. Jones successfully defended his doctoral dissertation in an excellent presentation entitled, "High-resolution water isotope records from West Antarctica ice cores: Interpretations of climatic, glaciological, and diffusional processes." Luckily for us, Tyler is sticking around for a pot-doc to continue his interesting and ground-breaking work. But he will spend much of October asking the question, "What does climare change sound like?" with a highly coveted Arctic Circle residency. April 2015.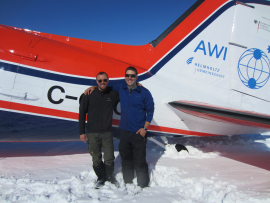 New digs for SIL, soon!
We are moving! After 25 years in RL1, we are relocating to the SEEC complex! The move will be a challenge...but our new facility will be amazing! April 2015.
Isaac on ice, again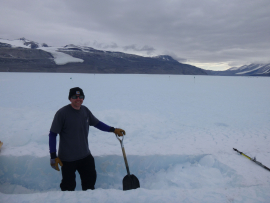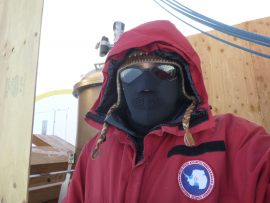 Graduate student Isaac Vimont returned in good health from a successful field season at Taylor Glacier in the Dry Valleys of Antarctica. Isaac was working with former SIl post-doc Vas Petrenko and others to extract gases from firn ice for analysis at multiple cooperating labs. Their work aims to better understand the Earth's climate system. Feb. 2015.
SIL research showcased at AGU
SIL represented at AGU! Jim White presented to a packed audience at the prestigious Nye lecture, entitled Abrupt Climate Change: Past, Present, and Future; the hard reality and the silver lining in a sustainable future. Tyler Jones presented his doctoral work on stable isotope analysis of the WAIS Divide ice core. Owen Sherwood presented his work using amino acid-specific stable isotopes of nitrogen in deep sea corals to understand past levels of nitrogen fixation in the ocean. Sylvia Michel presented 15 years of carbon isotope of methane data and showed that recent decreases in d13CH4 are likely due to increases in microbial methane emissions. Bruce Vaughn presented a poster describing mobile measurements of methane stable isotopes in the Denver-Julesburg basin, and Amy Steiker presented a poster about her Masters thesis on N2O isotopomers. Dec. 2014.
Amy Steiker completes her M.S. degree
Amy Steiker completed her Masters Thesis! Her analysis of N2O isotopomers from a subset of NOAA's Cooperative Air Sampling Network represents the largest dat set of its kind ever collected. Her pioneering work has paved the way for ongoing measurements; we are currently developing an automated system to operate in conjuction with a Picarro analyzer. Amy worked with us as an undergraduate and then as a lab technician before starting her graduate work. She has accepted a job at the National Snow and Ice Data Center, just across the parking lot. Dec. 2014.
Fourth annual FRIDay (Front Range Isotope Day)
The 4th annual FRIDAY conference was held at Colorado School of Mines. Front Range Isotope Day is a gathering of local researchers who use stable isotopes to share ideas, methods, challenges, and to "talk shop." We are especially fond of this conference because it was our idea and we hosted the first meeting in 2010. Now it is a fun tradition and a great opportunity to see old friends, build new bridges, and learn something new about stable isotopes. Aug. 2014.
Isaac on ice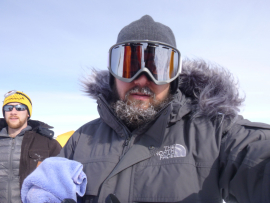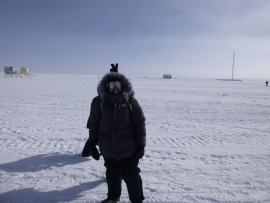 Isaac Vimont headed to Summit, Greenland for a field season working with colleagues at the University of Rochester. Unfortunately his trip was cut short by high altitude pulmonary embolism, and we are glad that he is safely home - he joins a distinguished company of polar researchers with HAPE evacuations. Now that Isaac is healthy it makes for a great story: his exciting first-time arrival on the ice sheet, his one day of work on the project, and his scary evacuation to a very remote (thankfully quite competent) coastal Greenland hospital in Illulissat. And actually it's quite convenient for us to have him back in the lab. . . June 2014.
"All hands on deck" at Clear Creek Canyon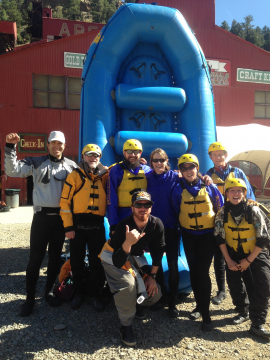 The SIL team learned about the hydrology of Clear Creek Canyon from river expert Colin Rodgers. As predicted, it was Isaac Vimont who sampled the icy water. It was unanimously agreed that this would be an ongoing project with annual summertime fieldwork. In the past we have studied other components of the hydrologic cycle with excellent results. June 2014.
"Boulder scientist building a better way to study emissions on the go"
Reporter Christi Turner wrote up a ridealong with Bruce Vaughn in the Boulder Weekly. He's converted a pickup truck into a mobile methane emissions detection unit using equipment and instrumentation developed at INSTAAR in partnership with Picarro. Funded by the National Science Foundation, the instrumentation development is part of the AirWaterGas project. Feb. 2014.
SIL joins AirWaterGas to study the effects of fracking on water and air quality
SIL is participating in the CU-based, NSF funded Sustainability Research Network called the Air Water Gas project, which is aimed at studying sustainability in the oil and gas industry in the Rocky Mountain West. The mission of this is to provide a logical, science-based framework for evaluating the environmental, economic, and social trade-offs between development of natural gas resources and protection of water and air resources and to convey the results of these evaluations to the public in a way that improves the development of policies and regulations governing natural gas and oil development. Dec. 2013.
Caroline Alden successfully defends her PhD dissertation!
Graduate student Caroline is a student no more: Dr.Alden gave an excellent defense talk entitled "Terrestrial carbon cycle responses to drought and climate stress: New insights using atmospheric observations of CO2 and δ13C." Caroline will bring her modeling and analytical skills to Stanford for a pot-doc . . .though we expect that we'll see her back in Colorado before too long. Congratulations, Caroline! We know you will be a valuable contribution to your next team but we'll sure miss having you on ours!! Oct. 2013.
Welcome, Owen!
The INSTAAR Stable Isotope Lab welcomes Owen Sherwood as the newest member of our team. Owen will spearhead measurements of atmospheric methane and the interpretation of these critical data. Owen comes to us with a lot of experience in making methane measurements, and will be a valuable addition to our team! Oct. 2013.