GEOL 5430
Paleoceanography and Paleoclimatology
Fall 2018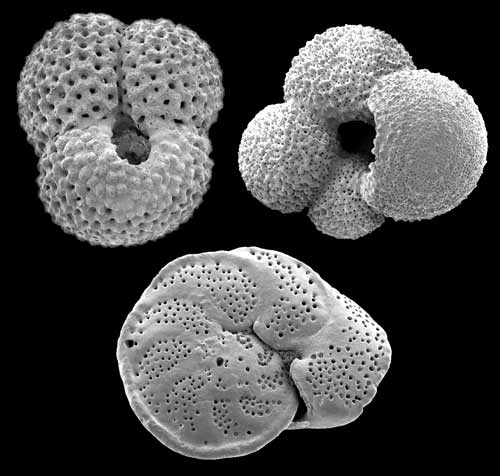 T 8/28: Intro to paleoceanography and paleoclimatology
motivation, approaches, dating, timescales of change
Link: NOAA Paleoclimatology database

Th 8/30: Overview of radiative balance and atmospheric circulation
Stefan-Boltzmann law, greenhouse effect, radiative forcings, atmospheric cells and prevailing winds
Reading: see Chapter 2 of Ruddiman, Earth's Climate: Past and Future (only in the 1st and 3rd Editions) if you'd like a basic review
T 9/4: Overview of ocean circulation
temperature and salinity, wind-driven circulation, deep ocean circulation
Reading: see Chapter 2 of Ruddiman, Earth's Climate: Past and Future (only in the 1st and 3rd Editions) if you'd like a basic review
Th 9/6: Milankovitch orbital theory
ice ages, insolation, eccentricity, precession, obliquity
Reading: Berger et al., Astronomical theory of paleoclimates, from EQS, 2013.
Link: Berger and Loutre database of orbital parameters and insolation
Homework 1 due
T 9/11: Oxygen isotopes: Paleotemperature and global ice volume
stable isotope fractionation (inorganic), mass spectrometry, Emiliani curve, hydrologic Rayleigh fractionation
Landmark Reading: Dansgaard and Tauber, Glacier oxygen-18 content and Pleistocene ocean temperatures, Science, 166: 499-502, 1969.
Reading: Rohling, Oxygen isotope composition of seawater, from EQS, 2013.
Th 9/13: Milankovitch confirmed: Spectral analysis and SPECMAP
Fourier theorem, orbital tuning, SPECMAP stack
Landmark Reading: Hays et al., Variations in the Earth's orbit: Pacemaker of the Ice Ages, Science, 194: 1121-1132, 1976.
Reading: Bassinot, Oxygen-isotope stratigraphy of the oceans, from EQS, 2013.
Link: Lisiecki & Raymo benthic d18O stack
Homework 2 due
T 9/18: Radiocarbon
production and decay, dating complications, calibration, solar forcing
Reading: van der Plicht, Variations in Atmospheric 14C, from EQS, 2013.
Link: CALIB radiocarbon calibration
Link: IntCal13
Link: CSciBox age modeling software project

Th 9/20: Glacial-interglacial sea level history
tectonics, viscoelastics, geoid, U-Th dating, LGM, MIS 5e
Landmark Reading: Fairbanks, A 17,000-year glacio-eustatic sea level record: influence of glacial melting rates on the Younger Dryas event and deep ocean circulation, Nature, 342: 637-642, 1989.
Reading: Murray-Wallace, Eustatic sea-level changes - Glacial-interglacial cycles, from EQS, 2013.
Optional Reading: Edwards et al., Uranium-series dating of marine and lacustrine carbonates, Reviews in Mineralogy and Geochemistry, 52: 363-405, 2003.
Optional Reading: Thompson, U-series dating, from EQS, 2013.
Homework 3 due
T 9/25: Marine microfossils and paleoecological factor analysis
foraminifera, Imbrie-Kipp factor analysis, CLIMAP, MARGO
Landmark Reading: CLIMAP Project Members, The surface of the ice-age Earth, Science, 191: 1131-1137, 1976.
Reading: MARGO Project Members, Constraints on the magnitude and patterns of ocean cooling at the Last Glacial Maximum, Nature Geoscience, 2: 127-132, 2009.
Link: Allan Be's planktonic foram photos
Link: CLIMAP LGM atlas
Link: MARGO LGM atlas

Th 9/27: Ocean temperatures from organic geochemistry
salinity and d18O, Uk'37 saturation index, TEX86, IP25
Reading: Sachs et al., Biomarker indicators of past climate, from EQS, 2013.
Homework 4 due
T 10/2: Ocean temperatures from inorganic geochemistry
Gibbs-Helmholtz thermodynamics, Mg/Ca, Sr/Ca, clumped isotopes
Reading: Rosenthal and Linsley, Mg/Ca and Sr/Ca paleothermometry from calcareous marine fossils, from EQS, 2013.
Reading: Eiler, Paleoclimate reconstruction using carbonate clumped isotope thermometry, Quaternary Science Reviews, 30: 3575–3588, 2011.

Th 10/4: Ice cores: Glaciology and water isotopes I
deuterium, plastic deformation, dating, Greenland records
Reading: Brook, Stable isotopes, from EQS, 2013.
Reading: NGRIP Project Members, High-resolution record of Northern Hemisphere climate extending into the last interglacial period, Nature, 431: 147-151, 2004.
Link: Ice core data
Homework 5 due
T 10/9: Ice cores: Water isotopes II
Antarctic records, tropical ice cores, borehole temperatures, thermal fractionation, deuterium excess, d18O2
Reading: EPICA community members, Eight glacial cycles from an Antarctic ice core, Nature, 429: 623-628, 2004.
Reading: EPICA community members, One-to-one coupling of glacial climate variability in Greenland and Antarctica, Nature, 444: 195-198, 2006.

Th 10/11: Ice cores: Ancient atmospheres
bubble formation, CO2, CH4, very old ice, mean ocean temperature
Reading: Luthi et al., High-resolution carbon dioxide concentration record 650,000-800,000 years before present, Nature, 453: 379-382, 2008.
Reading: Ahn and Brook, Atmospheric CO2 and climate on millennial time scales during the last glacial period, Science, 322: 83-85, 2008.
Proposal warm-up due
T 10/16: Glacial-interglacial atmospheric CO2 and ocean chemistry
solubility pump, biological pump, carbonate compensation
Reading: Sigman and Boyle, Glacial/interglacial variations in atmospheric carbon dioxide, Nature, 407: 859-869, 2000.

Th 10/18: Carbon-13 and carbon-14 as carbon cycle tracers
photosynthetic fractionation, air-sea exchange, LGM abyssal carbon storage
Reading: Burke and Robinson, The Southern Ocean's Role in Carbon Exchange During the Last Deglaciation, Science, 335: 557-561, 2012.
Homework 6 due
T 10/23: Cenozoic atmospheric CO2 and tectonics
d13Corg, d11B, stomata, caliche, BLAG, Tibet
Landmark Reading: Popp et al., The post-Paleozoic chronology and mechanism of 13C depletion in primary marine organic matter, American Journal of Science, 289: 436-454, 1989.
Reading: Pagani et al., The role of terrestrial plants in limiting atmospheric CO2 decline over the past 24 million years, Nature, 460: 85-88, 2009.
Link: Palaeo-CO2 Project

Th 10/25: Millennial-scale climate change and North Atlantic Deep Water
NADW formation, Younger Dryas, Heinrich events, hysteresis
Landmark Reading: Bond et al., Correlation between climate records from North Atlantic sediments and Greenland ice, Nature, 365: 143-147, 1993.
Reading: Stocker, Past and future reorganizations in the climate system, Quaternary Science Reviews, 19: 301-319, 2000.
Reading: Caesar et al., Observed fingerprint of a weakening Atlantic Ocean overturning circulation, Nature, 556: 191-196, 2018.
Link: cGENIE EMIC
Homework 7 due
T 11/1: Passive tracers of deep ocean circulation
Cd/Ca, d13Cas, epsilon Nd
Reading: Marchitto and Broecker, Deep water mass geometry in the glacial Atlantic Ocean: A review of constraints from the paleonutrient proxy Cd/Ca, Geochemistry, Geophysics, Geosystems, 7(12), Q12003, doi:10.1029/2006GC001323, 2006.
Th 11/3: Dynamic tracers of deep ocean circulation
sortable silt, Pa/Th, paleogeostrophy, deep sea T & S
Reading: McManus et al., Collapse and rapid resumption of Atlantic meridional circulation linked to deglacial climate changes, Nature, 428: 834-837, 2004.
Reading: Lynch-Stieglitz et al., Weaker Gulf Stream in the Florida Straits during the Last Glacial Maximum, Nature, 402: 644-648, 1999.
Reading: Adkins et al., The Salinity, Temperature, and 18O of the Glacial Deep Ocean, Science, 298: 1769-1773, 2002.
Homework 8 due
T 11/6: Paleo-monsoon and ENSO
African Humid Period, sapropels, Asian monsoon variability, Holocene ENSO
Reading: Wang et al., A high-resolution absolute-dated Late Pleistocene monsoon record from Hulu Cave, China, Science, 294: 2345-2348, 2001.

Th 11/8: Paleocene to Eocene (66-34 Ma): Greenhouse world
PETM, cool tropics paradox
Reading: Zachos et al., Trends, rhythms, and aberrations in global climate 65 Ma to present, Science, 292: 686-693, 2001.

T 11/13: Oligocene to Miocene (34-5 Ma): Descent into the Icehouse
Antarctic glaciation, Monterey Hypothesis, grasslands, Messinian Salinity Crisis
Reading: Pagani et al., Marked decline in atmospheric carbon dioxide concentrations during the Paleogene, Science, 309: 600-603, 2005.
Reading: Cerling, et al., Global vegetation change through the Miocene/Pliocene boundary, Nature, 389: 153-158, 1997.

Th 11/15: Plio-Pleistocene (past 5 Ma): Onset of Northern Hemisphere glaciation
Isthmus of Panama, NADW, 20-40-100 k worlds, hominids
Reading: Raymo et al., Plio-Pleistocene Ice Volume, Antarctic Climate, and the Global d18O Record, Science, 313: 492-495, 2006.
Reading: Huybers and Wunsch, Obliquity pacing of the late Pleistocene glacial terminations, Nature, 434: 491-494, 2005.
Proposal due
T 11/20 & Th 11/22: Fall Break - No class
T 11/27: Holocene (past 10 ka): Relative stability
deglaciation, hypsithermal, neoglaciation
Reading: Kaufman et al., Holocene thermal maximum in the western Arctic (0–180°W), Quaternary Science Reviews, 23: 529-560, 2004.
Reading: Mayewski et al., Holocene climate variability, Quaternary Research, 62: 243-255, 2004.

Th 11/29: Past 1000 yrs: Medieval Warm Period and Little Ice Age
glaciers, forcings, NAO, ENSO, hemispheric reconstruction
Reading: Mann and Jones, Global surface temperatures over the past two millennia, Geophysical Research Letters, 30(15): 1820, 2003.
Reading: Mann et al., Global Signatures and Dynamical Origins of the Little Ice Age and Medieval Climate Anomaly, Science, 326: 1256-1260, 2009.

T 12/4 & Th 12/6: PAGES
FCQ week
Homework 9 (proposal reviews) due 12/6 electronically
T 12/11 & Th 12/13: AGU