Good mentorship is a cornerstone of a successful scientific career, but too often, finding a mentor is left to chance. Two programs help INSTAARs get the mentoring they need to have their best experiences here, develop their careers, and balance research with a healthy life. Both programs are designed to cultivate an inclusive and welcoming environment for INSTAAR members, but offer different types of mentoring. A third program is designed for potential students considering applying for graduate school.
1. newSTAAR peer mentoring: All incoming INSTAARs, including students, postdocs, PRAs, staff, and faculty, are automatically invited into this individual peer mentoring program for their first year as they join the INSTAAR community.
2. Junior Scientist Mentoring Program (JSMP): Students and postdocs from underrepresented and underserved groups are encouraged to take part in JSMP, which pairs small groups of mentees with senior scientist mentors for monthly individual check-ins and group discussions.
3. Graduate Application Assistance Program (GAAP): Students considering applying for graduate school in an INSTAAR-affilated department at CU are invited to pair up with a current student who can help them navigate the application process.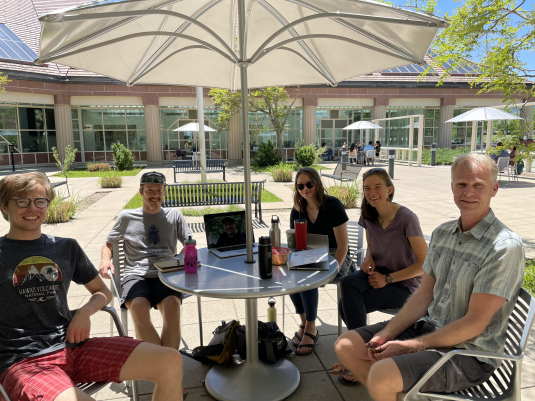 newSTAAR peer mentoring
newSTAAR is a peer mentoring program designed to help each person who joins INSTAAR find their place, make connections, and succeed in their new path and in creating a balanced life.
How it works
If you are new to INSTAAR, you will be automatically enrolled in newSTAAR (with the option to opt out) and paired with a mentor. Your mentor will be a current INSTAAR member, when possible, at your same professional level (e.g., grad student, post doc, PRA, staff, or faculty). You will meet with your mentor monthly for your first year to discuss navigating INSTAAR, Boulder, academic life, or anything else that you have questions about. You will also be invited to attend full group gatherings throughout the year to get to know other people, and to learn more about INSTAAR and what it has to offer.
Join
If you are new to INSTAAR and haven't yet been paired with a mentor, or if you have any questions, please email newSTAAR@colorado.edu.
If you are interested in becoming a mentor for newSTAAR, please email newSTAAR@colorado.edu. As a mentor you will participate in a short training session and attend monthly meetings with your mentee and a few full group social gatherings throughout the year.
newSTAAR committee
Sidney Bush, Benjamin Campforts, Abby Eckland, Dave Harning, Albert Kettner, Hannah Miller (committee lead), and Julio Sepúlveda.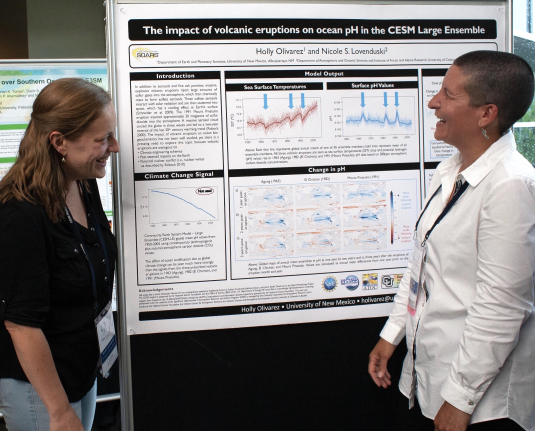 Junior Scientist Mentoring Program (JSMP)
Finding a mentor can be especially daunting for underrepresented and under-served scientists, who, because of largely white/male cultural dominance in the geosciences, rarely have the opportunity to find someone who truly understands them and reflects their values.
The INSTAAR JEDI Task Force has created the Junior Scientist Mentoring Program (JSMP) to make it easier for our underrepresented and under-served early-career scientists to access in-depth mentoring.
The program helps junior INSTAARs:
Feel welcome in our community,
Make connections, develop a sense of belonging, and gain community support,
Build confidence to be comfortable promoting themselves and their work,
Access advice, encouragement, and strategies for both professional and personal success, and
Learn from sharing the experiences of both senior scientists and peers.
JSMP is modeled after MPOWIR (Mentoring Physical Oceanography Women to Increase Retention).
Eligibility
The program is open to all INSTAARs who self-identify as an underrepresented and/or under-served scientist, whether an undergrad, grad student, postdoc, or PRA.
How it works
The program consists of small group mentoring meetings. Groups of 3-4 junior scientists meet monthly with 1-2 senior scence facilitators via an audio-only Zoom call for approximately 1 hour (video is an option if all agree).
Meetings consist of individual check-ins and group discussions about issues or topics that are of mutual interest (e.g., time management, work-life balance, navigating conferences, career advice).
Meetings are meant to be a safe space for discussion. Meetings will never be recorded.
Learn more
See the JSMP Handbook (PDF) for more information on the program's purpose, meetings, membership, and group facilitation. Also included is a guide to listening, promoting growth, and giving/receiving feedback. For questions or concerns, contact Nikki Lovenduski.
Join
Join the Junior Scientist Mentoring Program as either junior scientist or senior facilitator. New mentoring groups are being established in Fall 2021, and new groups will be added as needed in Spring 2022 and beyond on a semesterly basis.
Graduate Application Assistance Program (GAAP)
GAAP is a free program, created and run by current INSTAAR grad students. We're here to help prospective grad students move through the graduate application process. The GAAP web pages have all kinds of application resources, including a sign-up link for our mentorship and application support program. All are welcome; and we especially encourage applicants from underrepresented and non-traditional academic backgrounds to use these resources.