Welcome to the Institute of Arctic and Alpine Research! We are thrilled to have you join the Institute and would like to make your tenure at INSTAAR be the best it can be. We have tried to touch on topics of concern for someone new, but if you find you have questions about something not included - please just ask someone!
Expend your curiosity on your research, not on how to make copies, print a poster, or take on a research assistantship.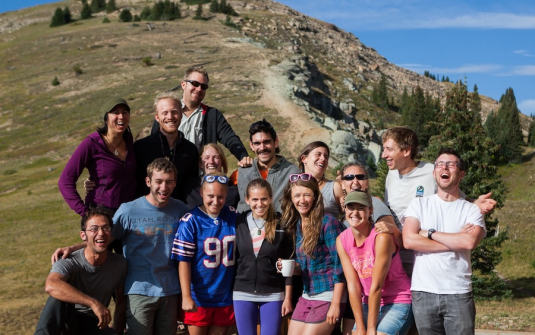 Photo gallery from 2013 grad student retreat
Getting started
Graduate Research Assistantship appointment
If you haven't yet received an offer letter for your appointment, please contact your accounting tech to verify details. The INSTAAR accounting technicians are all located in SEEC N202 or call 303-492-6387.
Lindsay McCandless, Payroll and Personnel liaison, can help you with any pay issues.
If any of your personal information, such as address or phone number, changes during your time at INSTAAR, log on to your https://my.cu.edu/ account to update your information.
Office space
If you have not yet been assigned a desk space, please talk with your advisor who can request space.
Keys
Building access is by Buff card and/or proximity card and many of the labs are accessed via proximity card. Your advisor can request keys and card access for you. Layne Lewis, INSTAAR Administrative Assistant, will make the arrangements.
Web profile
Email or visit Layne Lewis (SEEC room N202) to get your profile set up on INSTAAR's web site. You will be the author of that profile and can add to or change the information there whenever you feel it is appropriate. INSTAAR labs and research programs will link to you through your profile.

Mail
Have mail delivered to either of the following addresses (depending on mail service):
UPS or FedEx delivery
INSTAAR
4001 Discovery Dr.
Boulder, CO 80303
US Postal Service delivery
INSTAAR
Campus Box 450
University of Colorado at Boulder
Boulder, CO 80309-0450
All campus and business related U.S. outgoing mail is collected in bins in the mail room, N200, by the INSTAAR front office.

Computer
Computer and connectivity issues should be addressed to INSTAAR IT (instaarit@colorado.edu).
More information is available at http://instaar.colorado.edu/resources/it/printing-and-copying-faq

Email lists
The INSTAAR front office will add your email address to INSTAAR email listservs in order to keep you aware of what's happening. You can send messages to, and read messages from, the lists on which you're included. You should be on the INSTAAR-wide list (everyone at INSTAAR), the INSTAAR locals list (those in SEEC and SEEL), and the grad student list. Please keep in mind that these lists should be used for institute purposes only.
All email list inquiries should be directed to INSTAARIT@colorado.edu.

Copiers
INSTAAR copy machines are in the front office (N202), N138B, S139B, and S239B. Contact INSTAAR IT to add a printer driver to your computer.
Chad, INSTAAR IT, can print posters and other large-format pieces on the INSTAAR plotter for you. Find info on how to request poster printing on the INSTAAR IT web FAQ.

Telephone
All on-campus numbers either begin with a "735" or "492" prefix. When on campus, you can dial: "5-xxxx" or "2-xxxx". Example: The Front Office number is 303 492-6387. When on campus, you need only dial 2-6387.
To dial a non-University number while on campus, you must first dial an "8" and then the full number.
All telephone inquiries should be directed to INSTAAR IT.

Fax
A fax machine is located in SEEC S239B, number 303 492-6388. Another is in the INSTAAR front office, number 303 492-3287. Contact Layne Lewis, room N202, for help using the fax.



Reserving rooms, projectors, and laser pointers
Conference and meeting rooms
Use the SEEC web site to learn about and reserve conference rooms and equipment.
Projectors and laser pointers
Many SEEC conference rooms are equipped with LED displays with HDMI and VGA input connections.
In addition to the SEEC equipment, INSTAAR has projectors for sign out in the INSTAAR front office. Please complete the sign out sheet when borrowing.
The front office receptionist has laser pointers that may be signed out.

Purchasing and travel
It is essential that you meet with your Accounting Tech prior to any purchasing or travel. There are certain University procedures that we are required to follow and the Accounting Tech will ensure you adhere to these.


Safety and transportation
Use Night Ride, Night Walk for escorts to and from campus by calling 303 492-SAFE (492-7233). http://www.colorado.edu/safety/
CU Police Dept. dispatcher 303 492-6666.
See Layne Lewis, room N202, for information on how to obtain a parking permit, or visit https://www.colorado.edu/pts/
There are several alternatives to driving your car to work:
Bike, skate or walk: Boulder is an excellent place to bike, skate or walk to school or work. For bicycle information (registration, rules and regulations, safety, etc.), call the CU Bicycle Program at 303 492-2322. Registration through the University can facilitate re-possession of a stolen bike. Students get a discounted membership to the B Cycle bike sharing program.
Ride the bus: Boulder has a fantastic bus system - there's the Skip, the Hop, and other the RTD routes that really make it easy to get around this booming metropolis. See the City's web pages for more information on alternative transportation.

Grievances
Should you find yourself in a negative situation that you can't resolve or in which you would like to file a complaint, there are several options. When deciding with whom to meet, first consider who would be the most appropriate resource and schedule an appointment. Following are some people you may wish to contact:
Don't suffer in silence. You can get help and support from many quarters.

Graduate student responsibilities
Seminar attendance
INSTAAR offers two seminar series: Monday Noon Seminars and Graduate Student Seminars. Your attendance is highly recommended at both. You also have access to seminars at other departments or research labs in Boulder. Announcements will be posted on bulletin boards or via email. The graduate student seminar series is usually held in the SEEC S225. The Monday Noon Seminar series is usually held in the SEEC Sievers conference room.
Noon Seminar: Attending these talks lets you explore the variety of work happening at INSTAAR. These are brown bag seminars.
Graduate Student Seminar: Graduate students have an informal group that meets regularly to share research and practice research talks, discuss topics of concern or interest, and grow community.
Representation on the Directorate
The graduate students have an elected representative on the Directorate—this year (2021) that's Ethan Burns. The rep attends all Directorate meetings as a non-voting member, and is considered the "voice" of the graduate students. They report any pertinent issues back to the grad students, and solicit responses to topics of concern.
Thesis submittal
Please give a PDF or print copy of your thesis to the INSTAAR Library for the archive. You'll be surprised how many future students will use it! The Library can provide thesis binding for print copies at cost ($9).
Environmental Health and Safety training
As a graduate student, you are considered an employee of the University and are therefore expected to fulfill University training requirements. If you work in a lab, especially with chemicals, you must endure the Environmental Health and Safety Training course. This is an easy course, and just requires common sense. Ask your lab proctor for information or visit http://ehs.colorado.edu
CU Boulder policies Sexual Harassment Policy Statement
The mission of the University of Colorado Boulder requires an open working and living environment free of sexual harassment for students, faculty, staff and administrators. Sexual harassment is prohibited as a form of sex discrimination in the learning and workplace by federal and state law; therefore, sexual harassment is prohibited on campus and in university programs. The university is committed to taking appropriate action against those who violate the University policy prohibiting sexual harassment, including false and malicious allegations. Sexual Harassment training is required of all faculty and staff. Please visit the following website for details: http://www.colorado.edu/institutionalequity/training-and-education
University of Colorado Boulder Drug and Alcohol Policy Statements
CU-Boulder is committed to excellence in all aspects of personal and academic life. We recognize that alcohol abuse and misuse is a significant impediment to achieving this excellence. Therefore, CU-Boulder permits only responsible, legal consumption of alcohol. The university complies with all federal, state, and local laws concerning alcohol and illegal drugs. As a CU-Boulder student, faculty or staff, you are responsible for acquainting yourself with the laws and university policies regarding alcohol and illegal drugs. Please visit the following website for details: http://www.colorado.edu/aod/
You also become subject to NSF policies if you have an NSF grant.