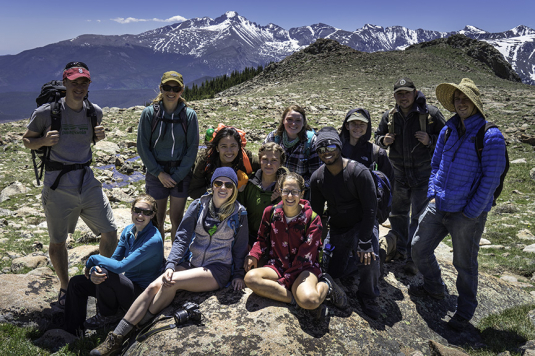 Undergraduate students at INSTAAR assist with funded research projects and conduct their own thesis research and independent studies. For students with interests in earth and environmental science, INSTAAR provides a unique opportunity for interdisciplinary training, research experience in the field and lab, and access to a wide variety of analytical and computational facilities beyond those of their home academic departments.
More than a dozen undergraduate honors theses are currently in progress under the guidance of INSTAAR scientists.
Several undergraduate independent study projects are conducted each year.
Field courses at the Mountain Research Station are organized by the MRS and run through the Division of Continuing Education. Past topics have included winter ecology, mammalogy, limnology, and feeding ecology, and have allowed many ENVS majors to meet their curricular requirement for a field course.
INSTAAR employs many undergraduate students as field and lab technicians.
Many INSTAAR researchers and labs participate in programs (some with paid positions) that help connect undergraduates to hands-on scientific research:
Research Experience for Undergraduates (REU) brings undergrads doing research in ecology to the Mountain Research Station and provides them with faculty mentors. 70% of these students go on to graduate programs or professional school in biology. Students from groups underrepresented in academic biology are encouraged; since 2007 about a third of students have been from minority groups.
Undergraduate Research Opportunities Program (UROP) funds research, scholarly and creative work with several types of grants that pair undergraduates with CU science faculty members.
An INSTAAR program to bring work-study students enrolled in Environmental Studies into INSTAAR labs as technicians.
CU Honors Program provides special educational opportunities for highly motivated students. Several undergraduates have conducted research at INSTAAR to complete Honors theses.
Over the last seven years, undergraduate students were co-authors on 37 peer-reviewed scientific papers, and were first authors on 7 papers. Many undergraduates associated with INSTAAR go on to graduate programs and successful research careers.
Prospective students are encouraged to contact one or several INSTAAR faculty working in their areas of interest. Contacting graduate or undergraduate students already working with those faculty members may be helpful as well. Send general INSTAAR-related student questions to instaar@colorado.edu.