INSTAAR is committed to building an inclusive, actively antiracist institute where all people from groups underrepresented in science and academia are welcome, safe, and supported.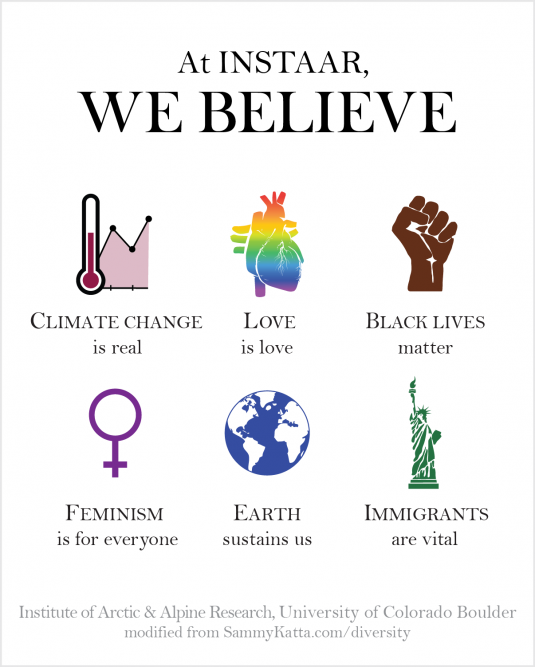 Our priorities
We aim to create an environment where individuals feel safe, heard, and encouraged to be themselves, and where all INSTAAR members understand their important roles in our anti-racism plan. We are working to dismantle systemic biases within our institute and within our larger institutional and scientific contexts, align the demographics of INSTAAR with those of our state and nation, and reduce barriers to living in Boulder and conducting scientific research at the University of Colorado Boulder.
INSTAAR's statement on systemic racism outlines the overdue realization that we are part of the same systems of institutionalized racism that lead to police violence, racist policies, and other acts of anti-Blackness. As researchers in the Earth sciences, we understand cumulative effects and how systems interact. We also see how climate and environmental issues combine to disproportionately affect people who are marginalized, especially BIPOC communities. That understanding must support us in doing our part to dismantle systemic racism in our own spaces.
Download a PDF of our Inclusive Excellence Narrative. An open dialogue within INSTAAR and concentrated work by our Justice, Equity, Diversity, and Inclusion (JEDI) Task Force has given us priorities and plans for specific actions.
Find resources for those who identify with minoritized groups and for allies, and tools for building antiracist research teams and decolonizing our research and teaching, on our Resources tab.