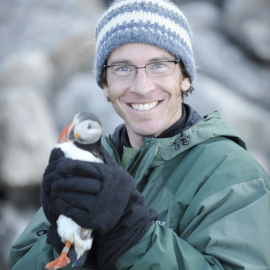 In each of these 2-minute videos, Dr. Ryan (a.k.a. Ryan Vachon, scientist, filmmaker, and extreme athlete) explains a basic scientific concept. To do it, he smears his glasses with sunscreen, bikes like a madman, lifts a trailer, visits scientists on windy mountainsides and in their labs, and breaks down concepts into easily understood pieces.
Learn More About Climate sponsors this lively new video series, in which Doc Ryan immerses himself in the laboratories and research stations of CU-Boulder scientists to find concise answers to questions about climate change. These high-energy videos respond to questions from teachers and students throughout Colorado and are sure to bring some adventure into the classroom.
The videos include:
What is the difference between weather and climate?
How do greenhouse gases work?
Are humans influencing modern climate?
How much difference do a few degrees make?
What is the ice albedo feedback?
How does nature try to balance carbon dioxide?
What is an indicator species?
Doc Ryan is also available for school assemblies, classroom presentations and Q & A Skype sessions with science students, during which he brings STEM learning to life.
Related People