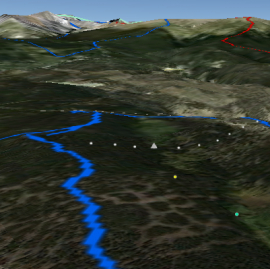 Swoop through our Critical Zone Observatory research sites.
The Google Earth fly-through starts at the INSTAAR building in Boulder, then twists up Boulder Creek and surveys our major research sites: Betasso Creek watershed, the Mountain Research Station, Gordon Gulch, Como Creek, Green Lakes Valley, and finally Arikaree Glacier near Kiowa Peak.
Click data layers on and off (geology, hydrology, municipal watersheds, Boulder Open Space, Roosevelt National Forest, and so on) to see more information about the landscape. Historic imagery for the last ten years shows short-term changes.
An uninterrupted flythrough is 4:40 minutes—but where's the fun if you don't stop along the way?
Requires the free Google Earth plug-in.
Related Research
Related People