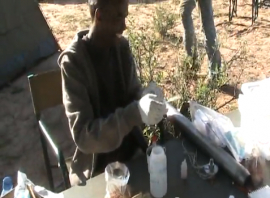 Deep in the Kalahari Desert, hot winds carry sand across the dunes of the savanna. In this parched climate, scientists dig deep to study the influence of climate change on soil and plant dynamics.
Join scientists from the University of Colorado, UCLA, the University of Virginia, Princeton, and the University of Botswana and US high school science teachers on their expedition into Botswana, southern Africa.
The site includes online games for students, National Science Standard-compliant lesson plans for teachers, maps, and videos.
INSTAAR postdoc Natalie Mladenov was the Principal Investigator for the project that led to Underground Safari.
Related People