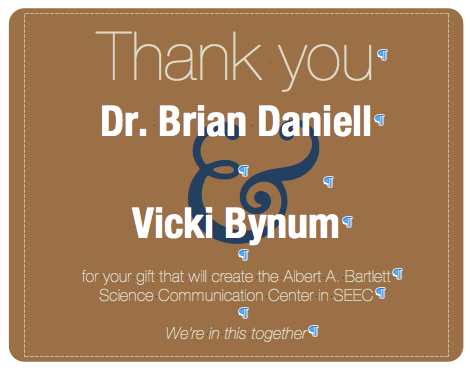 Put a foundation under research that changes the way we understand and care for our world
For decades, researchers at INSTAAR and elsewhere at the University of Colorado Boulder have pursued the difficult questions at the core of how we understand and engage with our environment. Now, CU–Boulder faculty and students are at the leading edge of the research that will help us understand and manage many of society's grand challenges, including climate change, food security, water supply, energy use, and the health of ecosystems on which we all depend.
You can help bring these people together in new ways that transcend disciplinary and organizational boundaries.
The new and newly renovated buildings for the Sustainability, Energy, and Environment Community (SEEC) bring together CU academic units (including INSTAAR) and federal labs in a shared space. A new, efficient lab building and a refurbished 290,000 square-foot space for offices, classes, and collaborative work enable transformative partnerships between economists and engineers, physicists and historians, business majors and ecologists. The complex is a world-class research and teaching center that anchors the new environmental cluster on East Campus. A range of naming opportunities are available.
You can put a foundation under emerging research that brings us closer to a sustainable future for Colorado and the world. Please consider making a donation for SEEC today.


---

Consider donating to a specific INSTAAR fund
Review INSTAAR's mission and influence | See INSTAAR's history of scientific discovery
Diana R. Nemergut Memorial Graduate Scholarship Fund - Friends of Diana may wish to contribute in her honor, which will support CU grad students working on questions of environmental microbiology and ecological sustainability.

Mark F. Meier Memorial Fund - Those who knew Mark may wish to donate to the naming of a room in his honor in SEEC. Help highlight his many contributions to glaciology, the life of the institute, and the world around him.
INSTAAR Graduate Student Support fund - Support students' research and travel to field sites and conferences.

INSTAAR General Gift fund - Provide discretionary support to let us do exceptional things.