Monday, October 01, 2012, 12:00PM - 1:00PM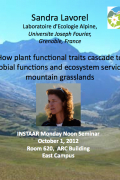 Speaker
Sandra Lavorel
Laboratoire d'Ecologie Alpine, Universite Joseph Fourier, Grenoble
Location:
Full title: "How plant functional traits cascade to microbial functions and ecosystem services in mountain grasslands."
I submit that understanding functional traits of plants and the organisms they interact with can support progress in science-based quantification of ecosystem services. I illustrate this using a quantification of how plant and microbial functional properties interplay in the field to determine key ecosystem functions underlying ecosystem services provided by grasslands.
At three European mountain sites, we found that increasing management intensity, and concomitant changes in soil fertility, were associated with more exploitative plant strategies and taller vegetation. These vegetation functional properties supported greater production, but at the cost of poor carbon and nutrient retention, notably because they were associated with microbial communities dominated by bacteria and with rapid rates of nitrification. Conversely, decreasing management intensity resulted in dominance by plants with conservative strategies, usually low production, but benefits for carbon sequestration and soil nutrient retention by favouring microbial communities dominated by fungi co-occurring with bacteria with slow activities.
Such understanding can then be used to project changes in ecosystem services in response to coupled climate–land use change scenarios. Scenario outcomes highlight the risk of a shift from the current bundle of production and cultural services of interest to local population to more regulation services, mostly of interest to society at large, but at the detriment of locals.
Audience
Free and open to the public