Monday, April 08, 2013, 12:00PM - 1:00PM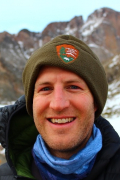 Speaker
Jon Kedrowski
Central Washington University
Location:
Full title: Mountain meteorology, physical geography, and sleeping on the summits: From Colorado to Mount Everest
Abstract: Climb Your Everest
Dr. Jon Kedrowski will talk about his recent achievement of becoming the first person to spend the night in the summit of every Colorado 14er In 2011. He then did research on water quality in Nepal while Climbing to the Top of Mount Everest in 2012. The presentation will focus on goal setting and overcoming adversity, weaving in real life examples of how you can apply basic principles to conquering your own Everest in your life. Because Dr. Kedrowski is a Geographer, the presentation will also weave in aspects of Colorado's rich physical geography, weather and climate, and include some details about Jon's journey of pursuing a career in geography and environmental sciences, with the main focus being on some of his findings on air and water quality on Everest.
Bio: Jon grew up in the Vail Valley and is a local ski mountaineer, scientist, and adventurer. He climbed every Colorado 14,000 foot peak by the time he turned 18.
Jon has over 500 ascents of Colorado 14ers. He has twice climbed each of the 58 Colorado 14ers in one season, in 2005 in 40 days and in 2011 in 95 days. During the 2011 season he became the first person to spend the night on the top of every fourteener summit and has recently released his book called Sleeping on the Summits: Colorado Fourteener High Bivys. He has climbed every 14er at least 5 times and has as many as 25 ascents of some of the popular 14ers including Elbert, Grays, Torreys, the Maroon Bells and Quandary.
Jon is a veteran of seven major climbing expeditions to peaks above 20,000 feet, including climbing four of the seven continental summits. He most recently accomplished climbing to the summit of Everest in 2012 after having turned around only 800 feet from the top the week before.
He earned his PhD in 2010 in Mountain Geography from Texas State University San Marcos. His master's thesis in 2006 was on the Colorado 14ers, while his dissertation topic included climbing permit system management of resources in Mt. Rainier and Denali National Parks.
Audience
Free and open to the public