Monday, October 27, 2014, 12:00PM - 1:00PM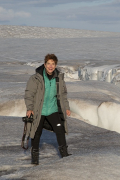 Speaker
Diane Burko
Location:
Abstract
Art has the ability to make the unseen visible and can explain complex scientific issues. The passage of time, the changes in the landscape can be recorded with scientific instruments and charted in graphs and diagrams. Artistic images can also depict such phenomenon—perhaps with more immediacy. Photographs and paintings have a power to influence on an emotional level. I have seen this happen. Since 2006 my artistic practice is devoted to transforming visual and technical data in my attempt to raise awareness of climate change. I want my art to be more than something to be enjoyed and appreciated—I want it to be used as a tool for social change and environmental policy.
In 2013 I participated in expeditions to Antarctica and the Arctic Circle (Svalbard). I had the privilege to join with scientists from the Norwegian Polar Institute in Ny-Alesund as they flew and landed on Kronebreen and Kongsvegen glaciers as well as visiting the archives in Tromso. This summer I returned to the Arctic Circle to explore Ilulissat in Greenland. In December/January 2015 I will participate on another expedition to Antarctica and the Perito Moreno glacier in Argentina's southern ice field. As an artist I know that reality reveals itself over time. Returning to these polar regions profoundly augments my ongoing study of ice as an indicator of environmental change. The chance to be in the field with scientists doing research enhances that experience even further.
My presentation will describe how the geophysical community has supported my evolution from landscape artist to landscape activist. It will also demonstrate how that collaboration has resulted in various outreach situations with the general public. This signals a growing movement at the intersection of art and science.
Today artists cross academic boundaries with increasing frequency to investigate, observe, and translate our environment and its complex processes. Scientific institutions and museums are bringing this new activity to the attention of the public. Hopefully this talk will encourage more such engagement.
Bio
Diane Burko is a painter and photographer whose work portrays monumental geological phenomena throughout the world. Since 2006 her practice has been located at the intersection of art and science, focusing on the urgent issues of climate change. Diane Burko has had more than thirty solo exhibitions in galleries and museums across the U.S., including recent museum exhibits at the Zimmerli Museum of Art, Tang Museum, Tufts University, Michener Art Museum and at Princeton's Woodrow Wilson School. She is an INSTAAR affiliate.
See some of Burko's work at her studio web site.
Audience
Free and open to the public.