Tuesday, May 19, 2015, 12:00PM - 1:00PM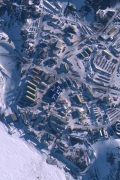 Speaker
Paul Morin
Polar Geospatial Center, University of Minnesota
Location:
Full title
Creating the sub-meter image base for the Arctic and Antarctic: The NGA commercial imagery program at the poles
Abstract
Over the past 5 years, the Polar Geospatial Center (PGC) has worked to task, archive, and process commercial sub-meter imagery for both poles. We now have near-seamless orthorectified and mosaicked panchromatic imagery for Alaska, Greenland, and Antarctica, with the rest of the Arctic expected in the next 12 months. Stereo commercial imagery is also being used to produce 2-meter posting digital elevation models for all of Greenland and key areas of Antarctica, Alaska, and the rest of the Arctic.
The challenge now is to deliver this raw and processed imagery, along with value added products such as digital elevation models, to the federally-funded polar science community. The PGC is addressing this through a number of tools, including a sub-meter imagery viewer, web services, and a basic DEM delivery website.
Ultimately, our goal is to cover the poles at the highest possible resolution and frequency, and to produce and deliver terrain and other value-added products quickly and to the widest possible user base.
Audience
Free and open to the public.