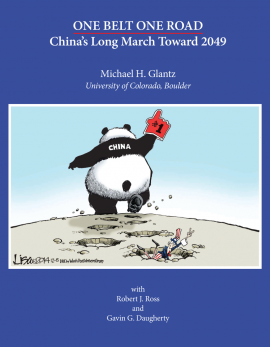 In 2013, China launched a $4 trillion-dollar initiative to finance infrastructure projects to both developed and developing countries. Currently there are more than 70 participating countries in its One Belt One Road (OBOR) initiative. Loans are designed to put countries on a fast track to development or to aid in further development--and to gain China superpower status. But secrecy around such loans has raised concerns that they are debt traps disguised as diplomacy. A new book by authors at the Consortium For Capacity Building (CCB) has just been released on the complicated international politics of development around OBOR.
One Belt One Road: China's Long March Toward 2049 is an up-to-the-minute briefing on the implications of OBOR for global politics, China's status as a superpower, trade, alliances, and regional tensions. The book takes the form of two- to five-page briefings on particular aspects of OBOR. First author Michael Glantz says, "To get all the interconnections straight in my mind, I had to map it." "At one point we had sticky notes all over the walls," adds contributor Robert Ross.
Authors include Glantz, who has led the CCB since 2009, first at the National Center for Atmospheric Research (NCAR) and then at CU Boulder. Before that he was an NCAR Senior Scientist. He is a member of the Advisory Committee of the International Integrated Risk Governance Program, headquartered at Beijing Normal University. He is the author of several publications on climate, water, and weather issues, including Usable Thoughts: Climate, Water and Weather in the 21st Century. Robert Jay Ross is project manager and research assistant at CCB. Gavin Daugherty also worked on the book as a research assistant at CCB while earning his bachelor's degree in political science from CU Boulder. He went on to earn a master's degree at the London School of Economics and Political Science.
The CCB is an educational, outreach, and networking organization at the University of Colorado, Boulder, hosted at INSTAAR. It main focus is enhancing the value and use of climate, water, and weather information for the betterment of societies and the well-being of individuals and their livelihoods. CCB works in both developed and developing countries to help the most vulnerable societies and populations mitigate and adapt to the impacts of a changing climate. Consortium partners are individuals and institutions working globally on capacity building in water, climate, and society issues.