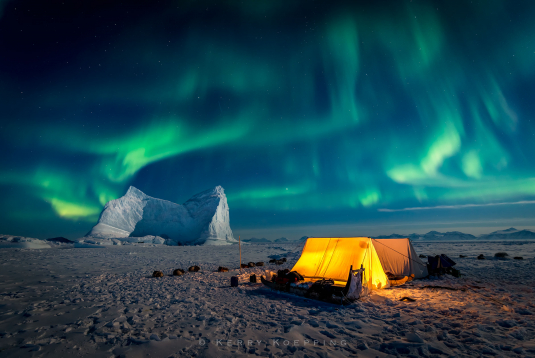 Photographers from the Arctic Arts Project, a collective of 8 photographers with a unified mission to promote visual understanding of climate change, were awarded 6 out of 14 medals in the "Through the Lens" international photography competition of the Arctic Biodiversity Congress. The Arctic Arts Project is a frequent partner of the University of Colorado, and director Kerry Koepping is an INSTAAR Affiliate.
Koepping was awarded the competition's Grand Prize Medal for "Ice Camp Aurora," while Þorgeirsson was awarded the Business and Science Category – Gold Medal for "Reflecting the Arctic" and Ledoux won the Landscape Category – Gold Medal for "Polar Ice." The group secured an additional place award in the Biodiversity category and swept the Landscape category.
The awards were presented at the 2018 Arctic Biodiversity Congress held in Rovaniemi, Finland in October. The Arctic Council, in partnership with the Ministry of the Environment, Finland, organized the congress to promote the conservation and sustainable use of Arctic biodiversity. The event brought together those who wish to make specific and significant contributions to the conservation of Arctic biodiversity through dialogue among scientists, indigenous peoples, policy-makers, government officials, industry, students, and the public.
The winning photographs debuted at the Arctic Biodiversity Congress and will be exhibited in locations in the Arctic and beyond over the next five years. Locations and details of the traveling exhibit will be announced on the photo competition's website as they are scheduled.