Colorado teachers and scientific researchers joined forces with authors, illustrators, and book publishers at INSTAAR on 28 February and 1 March for the NSF LTER Schoolyard Children's Book Series Workshop, hosted by Diane McKnight and Mark Williams of INSTAAR.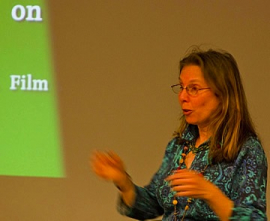 Participants worked out next steps for the popular LTER Schoolyard Book Series, which includes My Water Comes from the Rocky Mountains, My Water Comes from the San Juans, The Lost Seal, and Sea Secrets. They discussed how to develop web-accessible curricula associated with each book and move ahead with Spanish-language editions. "We learned that there is a great need for children's science literature in Spanish and in a bilingual format," said McKnight, "so we have plans for a Spanish-language version of the My Water books."
The books are an education and outreach effort of the Long Term Ecological Research (LTER) Network, in which scientists and students at sites across North America and Antarctica collaborate to look at ecological processes over long temporal and broad spatial scales. INSTAAR scientist Diane McKnight, a Co-Investigator at the Niwot Ridge LTER site in Colorado and the Principal Investigator of the McMurdo Dry Valley LTER site in Antarctica, was a primary driver behind the first two books in the series.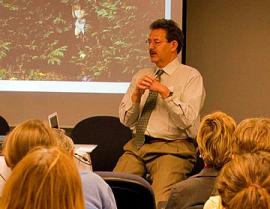 "Most of the book series authors have been LTER researchers," remarked workshop coordinator Margi Dashevsky. "One of the goals of the workshop is to have established authors help orient them to the children's book universe—story development, use of narrative." Panel discussions and breakout sessions helped participants grapple with applying ideas from the workshop to books from their LTER sites.
Keynote speaker David Sobel (Antioch University New England) related best practices in developmentally appropriate, place-based environmental education and outreach. Award-winning children's science author and illustrator Lynne Cherry, who is artist-in-residence at INSTAAR, showed one of the Young Voices on Climate Change films that she produced and directed and spoke on age-appropriate civic engagement.
Some participants also attended a pre-workshop event, Community Perspectives on Watershed Education, at the Keystone Science School in Keystone, Colorado. They discussed best practices for place-based watershed education, experiential learning, the Schoolyard books' accompanying educational resources, and extending the book My Water Comes from the Rocky Mountains to other watersheds.